Dominik 't Jolle
Recurrence
an exhibition at iMAL

22.05—06.06.2021
Following three previous editions, the exhibition titled
Recurrence
is the fourth iteration of a joint presentation of Werktank and Overtoon's past residents.
Recurrence is a group exhibition curated by Yimeng Wang, in collaboration with Sung Yoon Ahn, students of the Curatorial Studies postgraduate programme at KASK & Conservatorium.
Partners: iMAL, Werktank and Overtoon
---
Alumni news
Laila Melchior and Koi Persyn announced curators of the 2021 Lichen Prize for Curators

CIAP and Curatorial Studies — KASK & Conservatorium are delighted to announce CS alumni Laila Melchior and Koi Persyn as the winners of the 2021 Lichen Prize for Curators. The jury appreciated the duo's curatorial concerns with questions of place and the landscape, interests that align with those of CIAP, and which will be the ground for a fertile collaboration and exchange. The exhibition will open in Spring 2022.
Partners: CIAP

---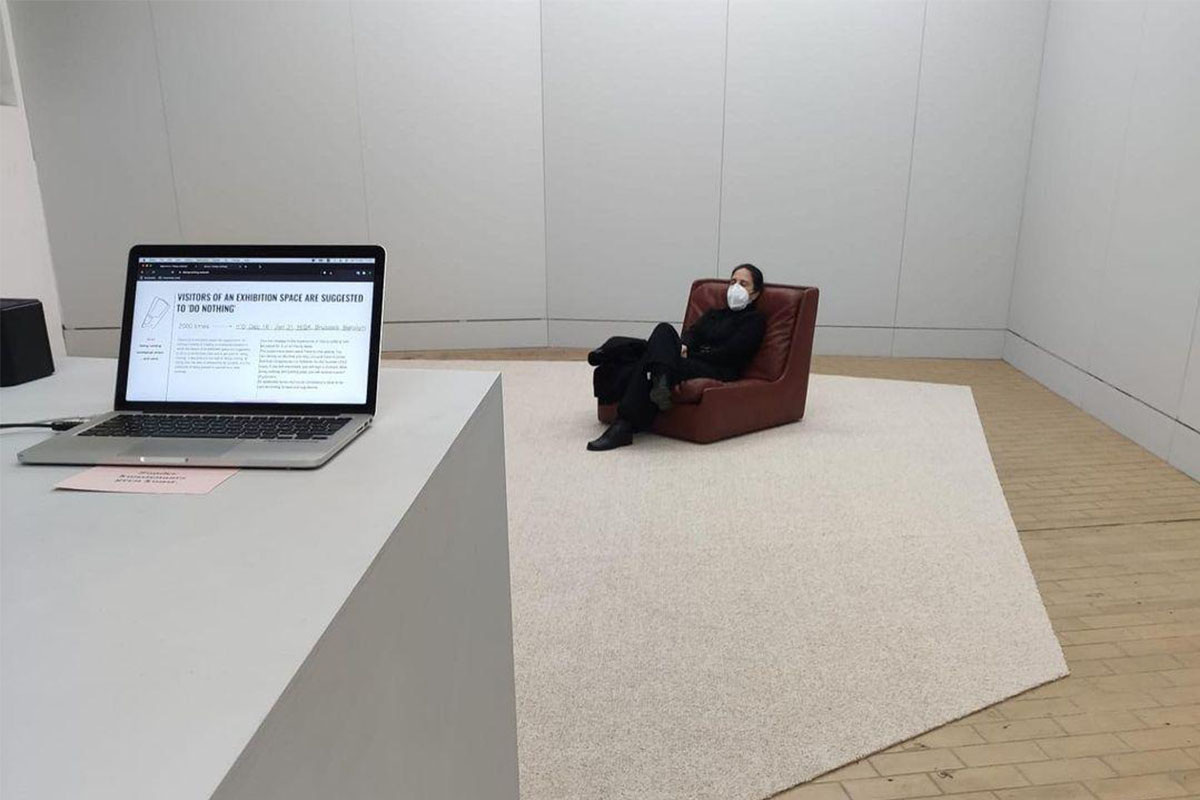 Visitors of an exhibition space are suggested to 'Do Nothing' by Katya Ev, in the picture, Daniella Geo
Masterclass
Fair Practice and Fair Pay
05-06.2021
Curatorial Studies organises a series of meetings, one each week, spread over four weeks, to observe and reflect on the labour conditions of art workers on both a national and international level.
This masterclass
is intended as an opportunity to bring artists and curators together to examine the financial, legal and ethical conditions of the ecosystem and learn together.
With Ilaria Conti and Alessandra Saviotti (AWI - Art Workers Italia), Jesse van Winden, Katya Ev, Olivier Lenaerts and Gertjan Verachtert
---
Performance Archive Radio
a podcast series
Performance Archive Radio' is a podcast series created as part of the
masterclass 'performance, archive, collection'
led by choreographer Ula Sickle within the frame of Museum for a Small City, Rebuild by visual artist Richard Venlet and hosted by S.M.A.K Museum Ghent, Curatorial Studies at KASK and Luca School of Art, Brussels. With thanks to Arezoo Khan.
Listen to Performance Archive Radio on
Soundcloud
.
---
Romuald Demidenko
Alumni News
Alumnus Romuald Demidenko appointed Residency Programme Curator at Rupert, Vilnius

Romuald Demidenko joins the arts and education centre Rupert, Vilnius as Curator of the Residency Programme.

Demidenko has worked with several art organisations and institutions, most recently the Xawery Dunikowski Museum of Sculpture, National Museum in Warsaw, where he served as curator of contemporary sculpture collections. He has curated and conceived, both individually and collaboratively, shows such as Returning to the Future, the 2020 Biennale Zielona Góra and the Open Triennale at the Centre for Polish Sculpture in Orońsko. Furthermore he contributed as one of the curators of Somewhere in Between. Contemporary Art Scenes in Europe at BOZAR Centre for Fine Arts, Brussels. He obtained his MA in Art History at the University of Wrocław, Poland. He is also the founder and co-editor of the online arts journal GUEST R𝑶𝑶MS..

Rupert's mission is to establish close cooperation between artists, thinkers, researchers and other cultural actors through transdisciplinary programmes and residencies.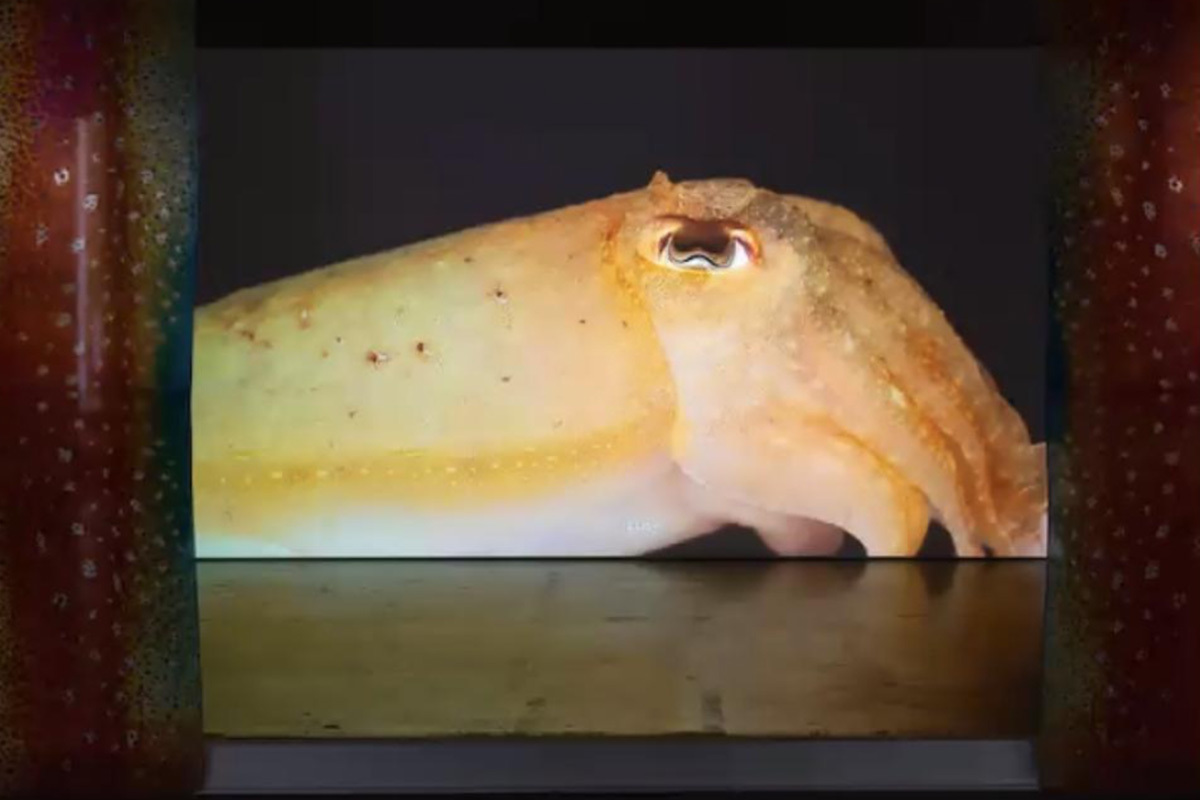 Installation view Cameo at Grazer Kunstverein
Play-White: Racial Passing and Embodied Images
a masterclass by Bianca Baldi
26.04.2021
This one-day masterclass
presents Bianca Baldi's recent body of work Play-White along with other artists, activists, researchers and writers working around the theme of image-making in racial passing. In sociology the term 'passing' refers to the phenomenon whereby an individual may be identified as belonging to an identity group or category other than their own. This may include racial identity, ethnicity, social class, gender, sexual orientation, religion, age and/or disability status. Based on topics from Play-White this masterclass explores the conditions of racial passing through topics such as, colonial trade routes, embodiment, shame, class betrayal and performativity.
---
Ippolito Pestellini Laparelli
Curatorial Lecture
Tales from two cities
by Ippolito Pestellini Laparelli

04.03.2021, 20:00
In this lecture called '
Tales from two cities
', Ippolito Pestellini Laparelli will focus on the city as a territory of multiple conflicts and potentials, common thread to two works that will be discussed during the talk. The point of departure will be Manifesta 12, starting from Palermo Atlas as a pre-biennial investigation on Palermo. Pestellini Laparelli will also show and discuss the research film essay that as 2050+ has been developed in Milan during the first lockdown -Riders Not Heroes, a work that investigates the precarious conditions of food delivery riders in Milan. It makes the case for riders as essential workers, lying at the intersection of platform capitalism, gig labor, refugee crises, and COVID-19.
---
Laurens Otto by Thomas Nolf
Alumni News
Alumnus Laurens Otto appointed curator at Museum Dhont-Dhaenens, Sint-Martens-Latem

Laurens Otto has been appointed to further develop the museum's exhibitions, publications and collection policy. Otto has previously worked as a curator at Het HEM, Human Activities and Council. In March 2021 his group exhibition What Stories Want will open in AAIR and Extra City in Antwerp. Otto is also active as a critic and editor-in-chief of RESOLUTION Magazine.

"Museum Dhondt-Dhaenens has an iconic history of daring exhibitions. I am honored to be able to contribute to the continuation of this heritage together with artists and the many supporters around the museum. " - Laurens Otto

---
12 frames, by Nathan Ishar & Sofie Frederix, picture by Nathan Ishar
1M3 – 12 Frames
an exhibition with artists' books from Kunstenbibliotheek
Curated by Nathan Ishar & Sofie Frederix

29.01.2021—22.04.2021
12 frames
invites you to enter and unfinished story- board to a no person's land through images and language. Similar to a fragmented film, an imaginary walk in nature unfolds, without a sense of direction. This display reassembles pages selected from photography and poetry books out of the artists' books collection of Kunstenbibliotheek.
Open from Monday to Friday, 8:30 – 18:30
Partners: Kunstenbibliotheek at KASK & Conservatorium
---
Nashashibi/Skaer Why Are You Angry? 2017 16 mm film, black and white and colour, sound, 16 min. Copyright: Nashashibi/Skaer
From the Collection | Why Are You Angry?
13.02.2021—30.05.2021
Recent acquisitions from S.M.A.K.
'
Why Are You Angry
?' is curated by Philippe Van Cauteren. The museum texts and interpretative tools for this exhibition have been developed by students of the postgraduate Curatorial Studies course at KASK, School of Arts Ghent, in collaboration with Ghent University and S.M.A.K. Margot Bossy, Sofie Frederix, Yimeng Wang and Julie Wyckaert undertook this work as a practical assignment within the Audiences and Learning module that trains future exhibition curators in audience-focused thinking and working.
Partners: S.M.A.K. and Curatorial Studies KASK, School of Arts
Ula Sickle, The Host: An Incomplete History of Performance, S.M.A.K
Masterclass
Performance, Collection, Archive with Ula Sickle

10.11.20 - 19.02.21
In the framework of From the Collection |
Museum for a Small City / Rebuild by Richard Venlet
The masterclass takes the research and methodologies used in the making of The Host, as a starting point. The aim is to look at performative strategies for dealing with archives, collections and performance based works, that exist only through traces, documentation and memory. The masterclass will explore the collection of S.M.A.K . and the rich history of performances that have occurred within and around the museum, with a view towards the collection of stories and anecdotes about the artworks and the building itself. These will become the basis for the creation of short scripted performances recorded as podcasts. More info
here
Partners: Fine Arts LUCA | School of Arts, Curatorial Studies KASK, School of Arts and S.M.A.K.
---
Open call: Lichen #2 Prize for Curators
As a testing ground for visual thinking in diverse forms, CIAP and Curatorial Studies — KASK & Conservatorium have initiated and endowed the Lichen Prize to foster and support curatorial innovation in Belgium. The call is open to all alumnae and alumni of the Curatorial Studies programme — as well as of its earlier forms: TEBEAC and 'Beheer, conservatie en restauratie van museale collecties hedendaagse kunst' — regardless of age, current professional status or geographic location. In fall 2020, CIAP and Curatorial Studies proudly presented
Petrichor
, a group exhibition curated by the laureate of the 2018-19 edition, Lucie Ménard.
Deadline for the submission of the project and provisional budget: 26 February 2021 at 12pm. The selected proposal will be announced at the end of April 2021.
More info
here
.
---
Cafe Anonymous at Kunsthal Gent, February 2020
Open call: Join Curators Anonymous

15.04.21, 15:00 CEST
Please register
here
Curators Anonymous is looking for new participants who are interested in co-learning and have some time to dedicate to discussing and researching different topics that are particularly relevant within curatorial practice:
the role of the curator

the current legal and socio-economic position of the curator in Belgium

working conditions and fair practice

best practices and tools

We are looking for anyone with an interest in curating practices who is willing to participate in our general meetings and working groups. Those will be shaped based on the current interests of the participants and they may range from a more theoretical to a more practical reflection. The assembly is open to everyone interested in exchanging opinions about curatorial practice in Belgium and wants to take actively part to the group. We will discuss the new form of the association, the goals and how to reach them.
To know more about Curators Anonymous and our activities, please visit their
website.
---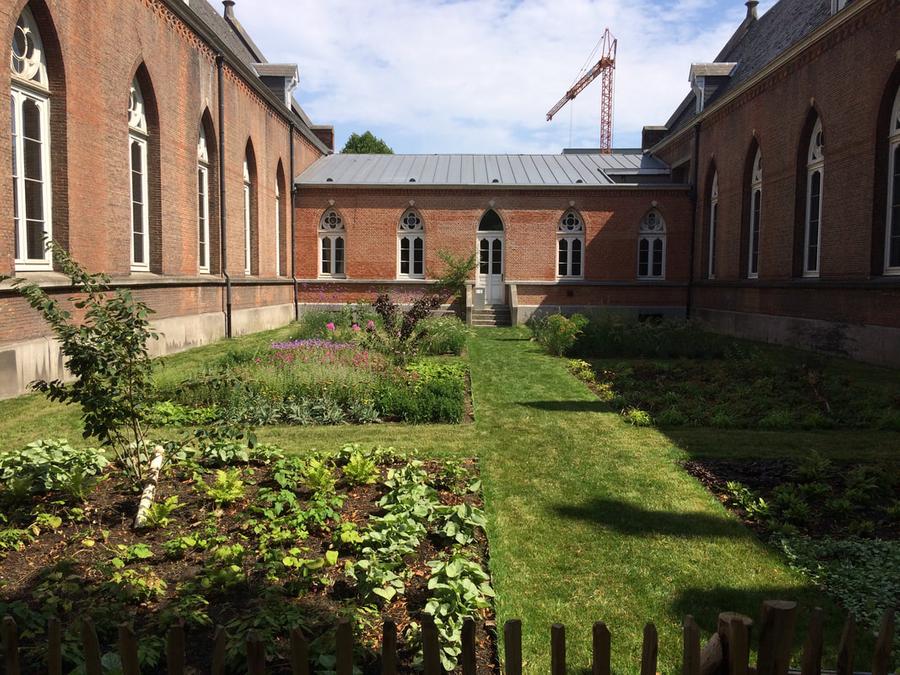 Reclaiming the School: selected projects from the first round (06.10.20)

Before the summer break, KASK & Conservatorium launched a project call to students and staff to encourage them to take relevant initiatives in our school within the current pandemic. The research council has selected three projects, among which the joint research project entitled "Garden Happenings" submitted by the departments of Landscape and Garden Architecture, Interior Design and Curatorial Studies of KASK School of Arts in Ghent.
The aim of the "Garden Happenings" is to investigate the meaning of a school garden for art education, taking the historic Bijloke site, where the School of Arts is located, as our case study. On this former hospital site, the proximity to nature, the knowledge of plants and access to fresh air have played a crucial role for five hundred years. Inspired by the historic role of the garden as well as the increasing importance of outdoor green space during the pandemic, we will consider how the garden can become a fundamental part of the school akin to the painting or sculpture studio and inquire into how ecological discourse impacts the development of art practices.
---
News Archive
2020-21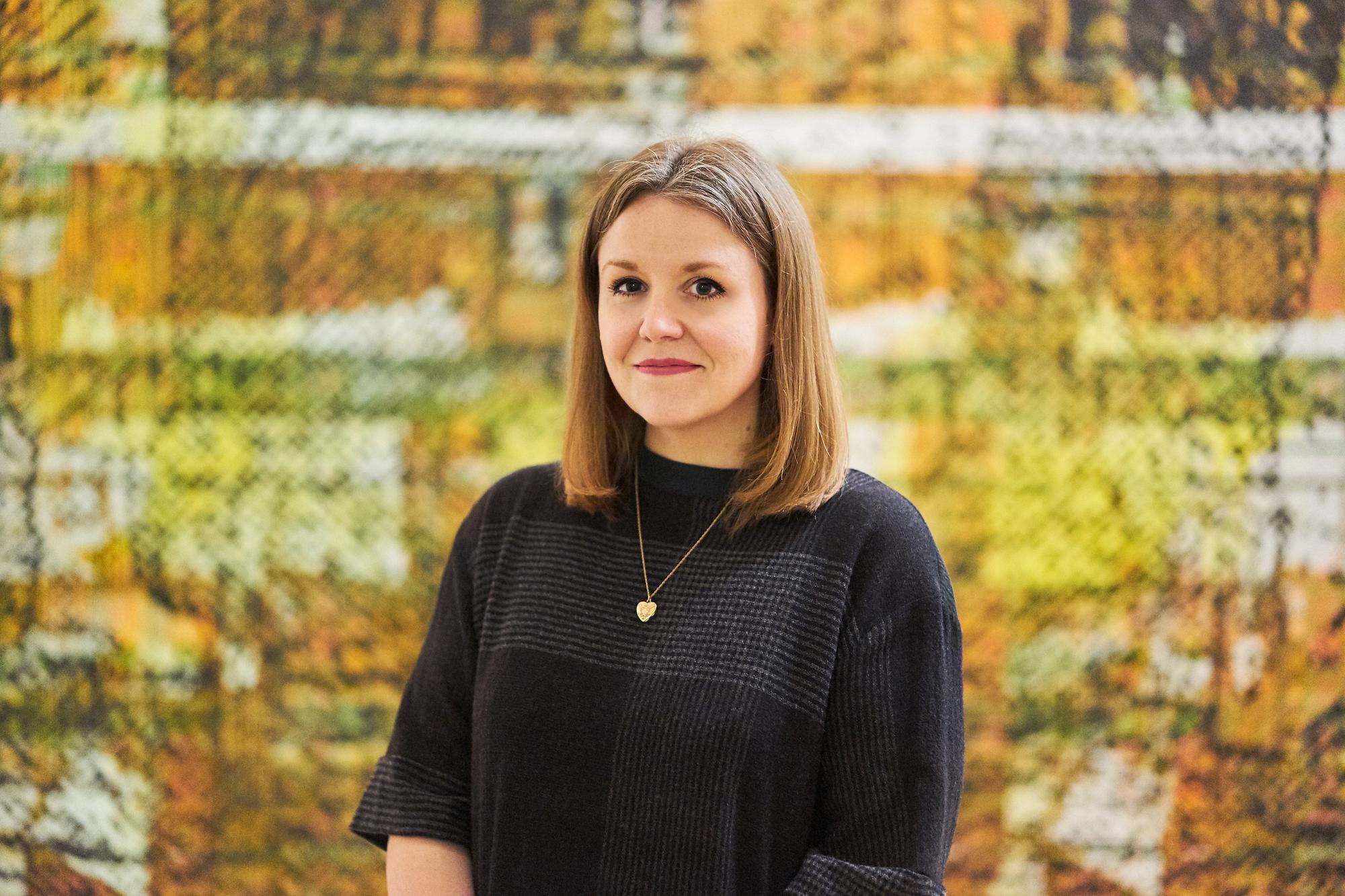 Karen Archey
Curatorial Lecture
After Institutions
by Karen Archey

Please join us for the third Curatorial Lecture in the 2020-2021 series on the theme of "Working with Space" by ⁠Karen Archey. The lecture will be held online on Thursday 4 February at 20:00.
About the lecture
In this lecture Karen Archey will discuss her exhibition "After Institutions" at the Stedelijk, which has indefinitely been postponed due to COVID-19. The point of departure of the exhibition was to explore the state of public institutions, their economic degradation, and the role of the art institution as the last vestige of intellectual public space and a space for assembly. One of the key topics of the exhibition was the notion of care, both in terms of the constantly devolving state of the health care industry throughout the West and its relationship to institutions and the idea of the artist being a "producer" who must be healthy and able enough to be able to "produce," and participate in the field. Now, with the COVID-19 pandemic, the story of the exhibition has only become more complex as pre-existing issues of the weakened welfare state have gotten worse, and the ability to assemble has become further under threat.
About
Karen Archey is Curator of Contemporary Art at Stedelijk Museum Amsterdam. She is an American curator and art critic formerly based in Berlin and New York. At the Stedelijk, Archey is responsible for the contemporary art and time-based media collections. Since joining the museum in 2017, Archey has organized solo exhibitions by artists Rineke Dijkstra, Stefan Tcherepnin, Catherine Christer Hennix, Steffani Jemison, Jeff Preiss, and Metahaven, as well as the group exhibition Freedom of Movement: the 2018 Municipal Art Acquisitions. She is currently working toward solo exhibitions by artists Charlotte Prodger and Hito Steyerl. She heads the Stedelijk's research initiative on the acquisition and documentation of time-based media. Archey previously worked as an independent curator and editor for the New York-based organization e-flux. In 2014, she organized with Robin Peckham the exhibition "Art Post-Internet" at Ullens Center for Contemporary Art in Beijing. In 2015, Archey was awarded a Creative Capital | Warhol Foundation Arts Writers Grant for short-form writing. She frequently lectures on contemporary art and time-based media.
Practical information

The lectures are free and open to everyone.
Accessibility is of concern to Curatorial Studies at KASK. There will be a live caption option for people with hearing loss.
The lecture will be available via
this link.
To register please contact us via curatorialstudies@hogent.be⁠
---
Rebecca Lamarche-Vadel
Lecture: Rebecca Lamarche-Vadel


Thursday 26 November 2020, 20:00 (CET)⁠

In this lecture Lamarche-Vadel will look back at RIBOCA2, an exhibition which was from its inception built on the theme of the end of a world. Initially supposed to open from May to October 2020, the project went through major transformations due to the pandemic. Opened to the public for only 3 weeks in August 2020, the show was also transformed into a film set. Taking place in a 200,000 square meters abandoned territory in Riga, it was imagined as a drift and an odyssey. Spanning through former industrial sites, wastelands, toxic grounds and flourishing ecosystems, the exhibition was an invitation to think about the art of living on a damaged planet. Lamarche-Vadel will share the experience of preparing the major international exhibition, the decision of opening the show despite a very precarious situation, and the process of rethinking the whole project, both as an exhibition and a feature film.

Biography
Lamarche-Vadel graduated in Art History, History and Political Science at La Sorbonne, in Paris. She began her career in 2008 at the Ministry of Culture, then at the Musée d'Art Moderne de la Ville de Paris as a conservation assistant From 2009 to 2012 she lived in Berlin and participated in numerous independent projects, together with institutional shows such as the prospective exhibition "Based in Berlin" (2011). In 2012, she was appointed curator at Palais de Tokyo, where she lead major projects such as the recent carte blanche to Tomás Saraceno, "ON AIR" (2018). She has also curated the carte blanche to Tino Sehgal (2016), Marguerite Humeau's "FOXP2" (2016), Ed Atkins' "Bastards" (2014) and the group exhibition "The Edge of the Worlds" (2015), among others In 2017, she was appointed co-curator of the exhibition "Voyage d'Hiver" at the Château de Versailles. She has collaborated on many occasions with international institutions such as MoMa PS1, the Stedelijk Museum and Nottingham Contemporary. Rebecca Lamarche-Vadel is the Director of Lafayette Anticipations Foundation, in Paris. She is also the curator of the 2020 edition of the Riga Biennale (RIBOCA2), and co-director of the feature film "and suddenly it all blossoms", to be premiered in 2021.
---

Cecilia Alemani
Cecilia Alemani: Art in Unconventional Spaces


Thursday 29 October 2020, 20:00 (CEST)



Please join us for the second Curatorial Lecture in the 2020-2021 series on the theme of "Working with Space" by ⁠ Cecilia Alemani. The lecture will be held online on Thursday 29 October at 20h (CET)⁠

During this online-lecture Cecilia Alemani will examine some case studies taken from her personal experience of curating ar projects in unconventional art spaces, like the High Line in New York, the Italian Pavilion at the Venice Biennale, Art Basel Cities: Buenos Aires, and others. Besides practical challenges, leaving the classical white-cube also brings ethical and conceptual difficulties with it: For who are you curating and which work do you show how?
Biography
Cecilia Alemani is an Italian curator based in New York. Currently, Alemani is the Artistic Director of the upcoming 59th International Art Exhibition (2022) in Venice. Alemani is the Donald R. Mullen, Jr. Director and Chief Curator of High Line Art, the public art program presented by the non-profit organization Friends of the High Line in New York City. She is also the curator of the Italian Pavilion at the 2017 Venice Biennale. Since 2012, she has commissioned and curated public art projects on the High Line by over two hundred artists. For the Italian Pavilion, she organized the exhibition Il mondo magico, featuring new commissions by Giorgio Andreotta Calò, Roberto Cuoghi and Adelita Husni-Bey. Throughout her career, Alemani has collaborated with many museums, institutions, and foundations, and has also pursued more unconventional projects with non-profits and informal organizations; and as an independent curator, she has organized numerous exhibitions in museums, non-profit spaces, and galleries. Alemani worked as guest curator for the performance art biennial Performa 11. She is the co-founder of No Soul For Sale, a festival of independent spaces, non-profit organizations, and artist collectives which took place at X Initiative in June 2009 and at Tate Modern. From January 2009 to February 2010, she served as Curatorial Director of X Initiative, New York, a year-long experimental non-profit space in Chelsea.
---
Curatorial Lectures 2020-21

Each academic year, S.M.A.K., Ghent University and Curatorial Studies at KASK-School of Arts Ghent co-organise the prestigious Curatorial Lectures series, presented by renowned curatorial practitioners in relation to a specific theme Following "Working with Artists" (2017-18), "Learning from Artists" (2018-19), and "Working with Collections" (2019-20), this year's theme "Working with Space" addresses the curatorial challenges working across various modes of space (including the physical, digital, performative, discursive, social, transcultural, glocal), taking into account the perils and possibilities of the "post-pandemic" / "new normal" sphere of exhibition-making.

Past speakers in the Curatorial Lectures series have included Mathieu Copeland, Anthony Huberman, Jean-Hubert Martin, Chus Martínez, Gabi Ngcobo, Susanne Pfeffer, Nicolaus Schafhausen and Adam Szymczyk.


Sanneke Stigter
Sanneke Stigter appointed guest lecturer at KASK & Conservatory Ghent

6 October 2020

Sanneke Stigter, assistant professor in Conservation and Restoration of Cultural Heritage has been appointed guest lecturer for the postgraduate programme Curatorial Studies at KASK & Conservatory Ghent. Stigter's appointment paves the way for a more long-term collaboration, specifically between Ghent's Curatorial Studies programme and the UvA's Contemporary Art specialisation, which is part of the Master's in Conservation and Restoration of Cultural Heritage.

The Ghent programme in Curatorial Studies is leading in Europe in this discipline and features a broad range of skills related to curating, conservation, exhibition history and theory, and building collections. Stigter will be teaching the module Conservation: Curatorial Aspects. She explains that the practices of conservation and curating converge during the installation of complex works of art. Thus, it is crucial for the conservation and identity of works of art that these two intertwined museum practices share a mutual understanding. The new collaboration between the UvA's Contemporary Art specialisation and Ghent's Curatorial Studies programme will allow students to get to know each other's work and research at an early stage.



Laura Herman (c) Thomas Nolf
Laura Herman will coordinate Curatorial Studies and MA Fine Arts (08.09.20)
From September 2020, Laura Herman will be the new course director of the postgraduate Curatorial Studies programme and the coordinator of the MA Fine Arts Master in Visual Arts programme at KASK & Conservatory. She will take over from Antony Hudek, who has become director of the museum Dhondt-Dhaenens, and from Simon Delobel, who is now director of KIOSK. With the arrival of Laura Herman, both graduate programmes are embarking on a promising new chapter.

Laura Herman (°1988, Brussels) is a curator, writer and editor. Previously, Herman served as a curator at La Loge in Brussels, a space dedicated to contemporary art, architecture, and theory, where she curated 'Learning from Artemisia' by Uriel Orlow, 'Palais de Justice' by Carey Young, 'Despina' by Zoë Paul, among other projects. She was editor of De Witte Raaf, a bimonthly art journal distributed in Belgium and The Netherlands. Between 2018 and 2020 Herman was curator of 'The New Sanctuary', the 12th Satellite programme at Jeu de Paume in Paris, CAPC in Bordeaux, and the Museo Amparo de Puebla in Mexico. She is a theory tutor at the department of Contextual Design at the Design Academy Eindhoven, co-editor of The Floor is Uneven. Does It Slope? (Mousse Publishing, 2019) and co-author of publications including Herewith the Clues (Sternberg Press, 2019) and Experience Traps (Motto Distribution, 2018). Herman received an MA from the Center for Curatorial Studies, Bard College, New York, in 2016, and an MA in Comparative Modern Literature from Ghent University in 2010.

Laura Herman: 'I look forward to contributing to the further development and internationalisation of the Curatorial Studies and Fine Arts programmes of KASK Conservatorium – School of Arts in a close and constructive dialogue with Ghent University and S.M.A.K. (Museum of Contemporary Art in Ghent). As we look ahead to a 'new normal', an opportunity presents itself to look at the world openly again; to focus our attention on what is desirable, rather than return to predetermined formats and fixed habits of mind. I believe we can offer students a versatile and challenging platform that invites critical reflection on artistic and curatorial practices. By drawing on the expertise of a broad and diverse network of cultural practitioners, I hope that these practices will be able to develop to their full potential.'

Lars Kwakkenbos: 'Over the past years Laura has developed an impressive career in the art world, both in Belgium and beyond. She knows our school inside out and her personal interests and ambitions match remarkably well with ours. We are looking forward to writing a new chapter together in our story of Curatorial Studies and our Master of Fine Arts. The synergy of those two challenges is promising and will embed Curatorial Studies in the artistic field of Ghent in a sustainable way, in an open dialogue with the partners of Curatorial Studies, i.e. Ghent University and S.M.A.K.'
---
︎︎︎ Back to News

---