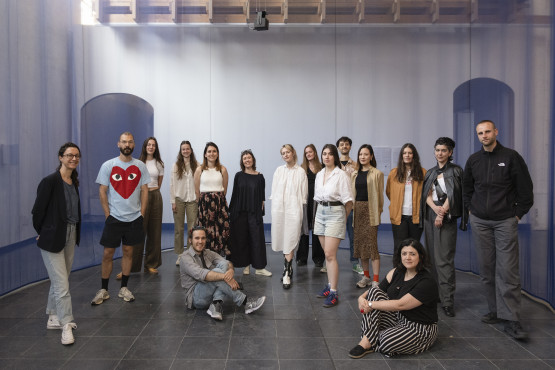 Curatorial Studies is a one-year
postgraduate programme at KASK & Conservatorium/School of Arts in Ghent, Belgium.
Who is this for?
Curatorial Studies at KASK & Conservatorium/ School of Arts is an intensive one-year English-language postgraduate course aimed at applicants with an MA or equivalent experience in the arts, humanities or sciences and a keen interest in contemporary art. Established in 1999, Curatorial Studies is the only postgraduate curatorial programme in Belgium, benefitting from a unique partnership between an art school, a university and a museum. In this course, students become familiar with contemporary curatorial practices across various contexts, such as museums, foundations, artist-run spaces and commissioning agencies. Curatorial Studies at KASK & Conservatorium/ School of Arts stands out among comparable European and North American programmes for the breadth of skills it covers, from conservation and exhibition history/theory to collection management and public mediation. Through this programme, students are equipped to excel in the curatorial field in its practical and theoretical applications.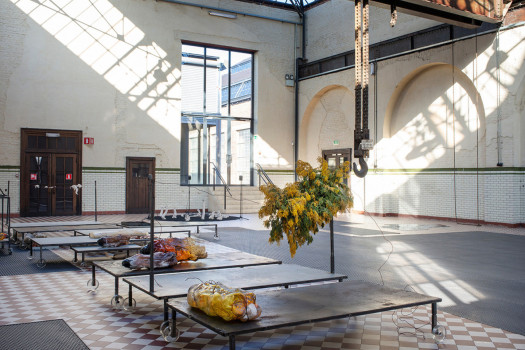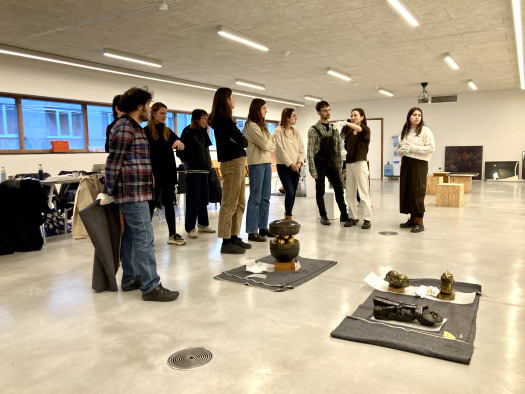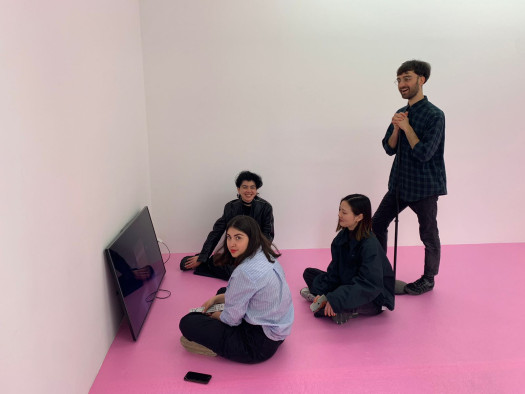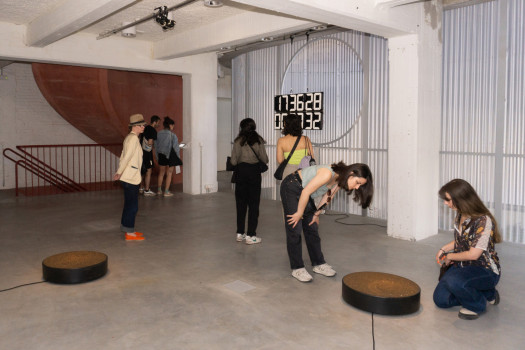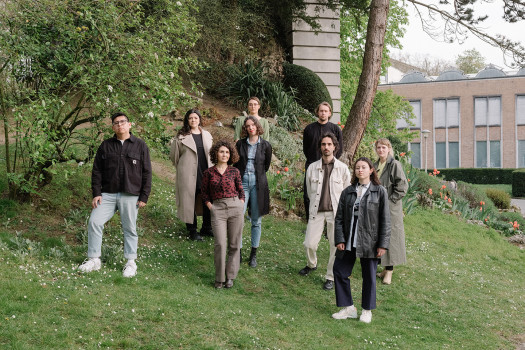 Throughout the programme, participants are encouraged to look at the world openly, to turn their attention to what is desirable, rather than return to predetermined formats and fixed habits of mind. Students adopt values which place meaningful participation and engagement over knowledge production. The programme treats the curatorial as a process that decouples the grip of the status quo from the conditions of artistic production: through fair practice, by thinking along with artists, and by extending their curatorial work to the pertinent questions and struggles of our times. Considering this, the programme advocates an update on curating's etymological definition – a commonplace by now – of caring for the object in favour of curating as an act of taking care of the world(s) in which artists must work and live their lives.
Thanks to the extensive knowledge and contacts acquired during the programme, students (re)enter the professional field in a position of confidence. The programme's alumni/ae find employment in the arts sector upon graduation, including in museums, galleries, non-profit art spaces, governmental cultural agencies, biennials, artist studios, magazines and, not least, academia. Moreover, given the long history of the programme, Curatorial Studies graduates benefit from an extensive network of alumni/ae who remain active within the cultural field.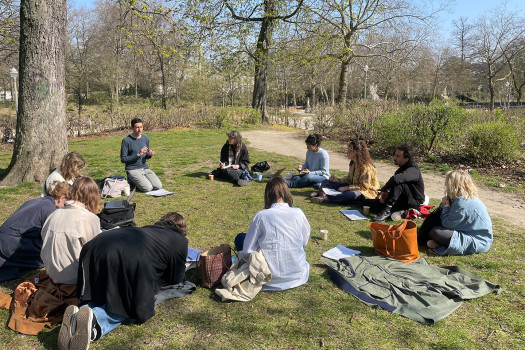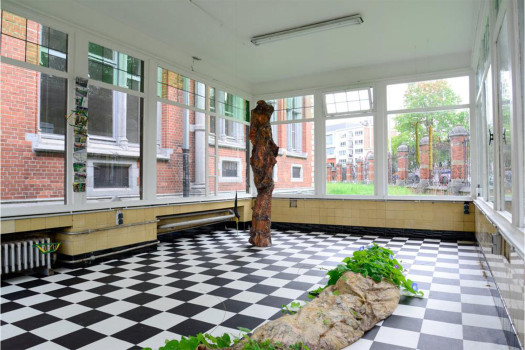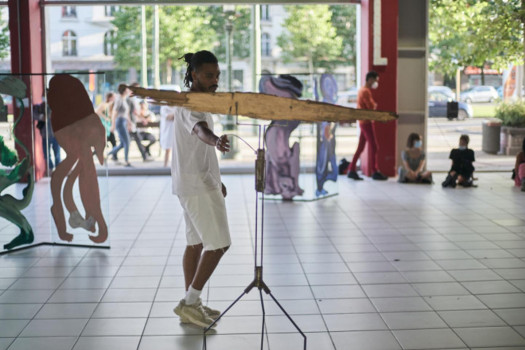 What will you be studying?
Curatorial Studies offers students a versatile and challenging platform that invites critical reflection on artistic and curatorial practices. By drawing on the expertise of a broad and diverse network of cultural practitioners and institutions – and thus making room for various theoretical, geographical, historical, and socio-political contexts and their intersections – the course aims to facilitate an environment where a multiplicity of perspectives and discourses can thrive.
Curatorial Studies not only encourages participants to develop their curatorial practice through the making of exhibitions, publications, and events—with a final collective project acting as a culmination point ('Graduation Project') – it also pays attention to the history and theory of exhibitions. Through a mix of lectures, seminars, workshops and independent research, students become conversant with the most up-to-date debates within the contemporary curatorial field, particularly as these intersect with social, political, and ethical issues.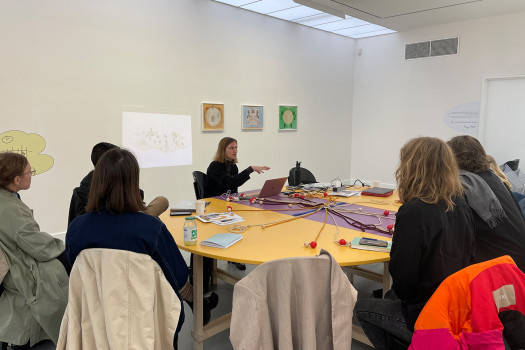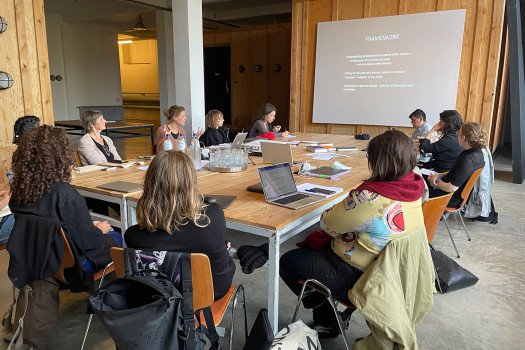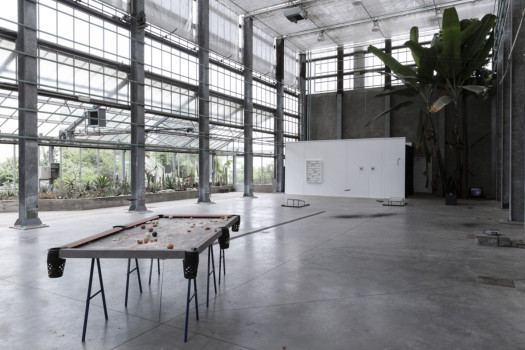 Application Guidelines
If you wish to enrol for the Curatorial Studies postgraduate programme, please submit the necessary documents to be invited to the orientation interview (see application guidelines below).
Two interview rounds are organised per academic year.
Application deadlines and interviews
Application deadline: 28.04.2023, 4pm
Intake interview: 08.05.2023
Application deadline: 25.08.2023, 4pm
Intake interview: 04.09.2023
Application Procedure
Practical information
Study programme
Study costs
Study and learning track counselling
Values
Exploring (un)common grounds: How do we engage with different perspectives from a broad and diverse network of artists, curators, institutions and initiatives?
Recentering attention: How do we create new habits of mind and counter 'positive violence' (over-achievement, overproduction, over-communication)?
Rethinking terminology: How do we re-examine the role of language, terminology, communication and poetics in curatorial work?
Making room: How do we provide new readings of collections, and reinterpretations that open new notions of history, permanence and universality?
Creating affinities: How do we think alongside artists rather than explain or present their work?
Playing it fair: How do we incorporate fair practices in curatorial work?
Thinking speculatively: How do we anticipate situations that are yet unknown (e.g. questions of accessibility; how do we suddenly close and re-open; how do we curate proactively)?
Rethinking art through reproduction: How can we understand forms of care-work, not as peripheral moments in the life of artists and curators, but as integral to artistic and cultural production?
Resources & Links
Bodies of Work
The temporary organisation Bodies of Work comes to life in Kunsthal Extra City's chapel. During the summer of 2022, it fills the space with six different exhibitions and events curated by the students of Curatorial Studies 2022.
Young Curators Programme
The Young Curators Programme is a fellowship programme designed to provide opportunities for emerging Belgium-based curators working in the context of Flanders and Fédération Wallonie- Bruxelles. Fellows are granted approximately two-month-long terms in Venice. They are expected to conduct research while gaining experience and exposure by actively taking part in the life of the Belgian Pavilion at the International Art Exhibition – La Biennale di Venezia.
Curators Anonymous
Curators Anonymous is a non-profit, non-affiliated association of curators in Belgium, founded in 2019 offering a platform for exchange on pressing issues affecting curators – their socio-economic and legal status, professional environment and societal roles.
Juist is Juist
Juist is Juist (what's right is right) defines clear and fair principles and practices for collaborating in the arts sector. For all disciplines. And for all parties involved. defines clear and fair principles and practices for collaborating in the arts sector, and gives you access to calculators, checklists, contract modules, diagrams and manuals.
State of the Arts
State of the Arts Fairs Arts Almanac 2019 offers a critical reflection on fairness in the complex relationships between artistic, political and economic spheres.
Engagement
Engagement is an artist-led movement tackling sexual harassment, sexism and abuse of power in the Belgian arts field.
Caveat
Caveat is a collective research into the ecology of artistic practice. It is initiated by Jubilee, in partnership with Open Source Publishing, No New Enemies and Été 78. Caveat tries to find more sustainable, balanced ways of operating within the existing legal frameworks.