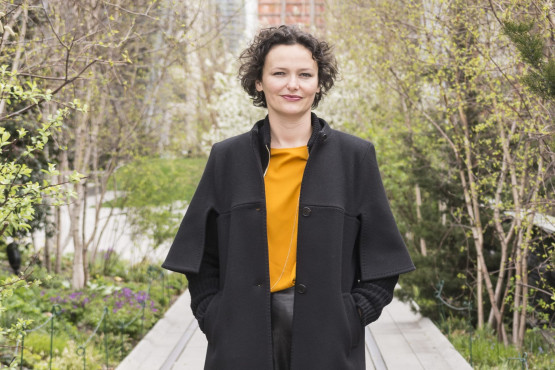 Curatorial Lectures: Cecilia Alemani
Art in Unconventional Spaces
20.10.2020, 20:00
online
About
Each academic year, S.M.A.K., Ghent University, and Curatorial Studies at KASK & Conservatorium School of Arts co-organise the Curatorial Lectures series presented by renowned curatorial practitioners in relation to a specific theme. Following 'Working with Artists' (2017-18), 'Learning from Artists' (2018-19), 'Working with Collections' (2019-20), this year's series revolves around 'Working with Space' (2020-21).
Curatorial Lectures is a lecture series co-organised by S.M.A.K. and the Curatorial Studies postgraduate programme at KASK & Conservatorium in Ghent, Belgium.
During this online lecture, Cecilia Alemani will examine some case studies taken from her personal experience of curating art projects in unconventional art spaces, like the High Line in New York, the Italian Pavilion at the Venice Biennale, Art Basel Cities: Buenos Aires, and others. Besides practical challenges, leaving the classical white cube also brings ethical and conceptual difficulties with it: For who are you curating, and which work do you show how?
Biography
Cecilia Alemani is an Italian curator based in New York. Currently, Alemani is the Artistic Director of the upcoming 59th International Art Exhibition (2022) in Venice. Alemani is the Donald R. Mullen, Jr. Director and Chief Curator of High Line Art, the public art program presented by the non-profit organization Friends of the High Line in New York City. She is also the curator of the Italian Pavilion at the 2017 Venice Biennale. Since 2012, she has commissioned and curated public art projects on the High Line by over two hundred artists. For the Italian Pavilion, she organized the exhibition Il mondo magico, featuring new commissions by Giorgio Andreotta Calò, Roberto Cuoghi and Adelita Husni-Bey. Throughout her career, Alemani has collaborated with many museums, institutions, and foundations, and has also pursued more unconventional projects with non-profits and informal organizations; and as an independent curator, she has organized numerous exhibitions in museums, non-profit spaces, and galleries. Alemani worked as guest curator for the performance art biennial Performa 11. She is the co-founder of No Soul For Sale, a festival of independent spaces, non-profit organizations, and artist collectives that took place at X Initiative in June 2009 and at Tate Modern. From January 2009 to February 2010, she served as Curatorial Director of X Initiative, New York, a year-long experimental non-profit space in Chelsea.