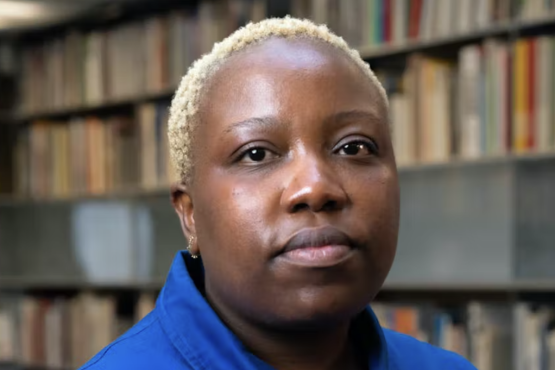 Curatorial Lectures: Yolande Zola Zoli van der Heide
A Lasting Truth Is Change
10.03.2022, 20:00
S.M.A.K.
About Curatorial Lectures
Each academic year, S.M.A.K., Ghent University and Curatorial Studies at KASK & Conservatorium School of Arts co-organise the Curatorial Lectures series, presented by renowned curatorial practitioners in relation to a specific theme. Following 'Working with Artists' (2017-18), 'Learning from Artists' (2018-19), 'Working with Collections' (2019-20), and 'Working with Space' (2020-21), this year's series casts a wide eye on curatorial practices that lie at the nexus of change by inviting reflective and engaged curators and scholars to bring fresh outlooks and expand our insights about a wide array of topics in relation to the curatorial.
Curatorial Lectures is a lecture series co-organised by S.M.A.K. and the Curatorial Studies postgraduate programme at KASK & Conservatorium in Ghent, Belgium.
In this lecture, Yolande Zola Zoli van der Heide will be discussing A Lasting Truth Is Change, her first large-scale exhibition as newly appointed curator at Van Abbe Museum. The exhibition asks how heritage institutions—those that preserve and display the content of "historical" value—can get into a sound relation with change and model just and joyous ways of living that reflect equitable future societies. The presentation of over eighty artworks from the collection is complemented with works that were never acquired by the museum despite past presentations. Out of this lacuna develops an experiment in revisioning history or our relation to the modern art canon that emphasizes relationality rather than artistic autonomy or "genius".
Biography
Yolande Zola Zoli van der Heide is exhibitions curator at Van Abbemuseum, the Netherlands. Previously she was deputy director at Casco Art Institute: Working for the Commons, where she began as an intern in 2008. She has been a tutor at the Dutch Art Institute, Roaming Academy, and thesis advisor in the Fine Arts department at the Sandberg Institute, Amsterdam (2016–2019), and is a board member at NeverNeverland, Amsterdam, and at Kunstituut Melly, Rotterdam. She is co-editor of publications such as A Lasting Truth Is Change (forthcoming); Laure Prouvost, This Means Love (Lisson Gallery, Van Abbemuseum, 2021); Unlearning Exercises: Art Organisations as Sites for Unlearning (Casco Art Institute, Valiz, 2018)