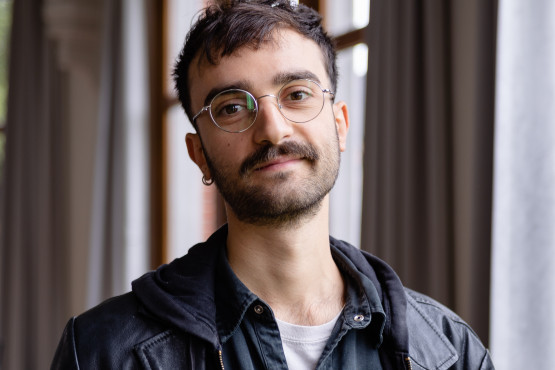 Davide Musco is an art historian and cultural professional. He stands at the meeting point between artistic production and research. Drawing from his experience in museum studies, he reflects on collective and individual memory and their representation. He believes in the relevance of culture in social and urban development, and he explores methods and limits of participatory creation. His curiosity leads him to different paths. He works on micro-edition, exploring poetry and visual content. He works with photos and found objects, fascinated by the process of history-making. He is interested in art brut, visual culture, and cultural policies among others.
Over his study years, he has shaped his fields of interest, namely museum studies, contemporary arts, and the relationship between culture and politics. He holds a Master's degree in Visual Art and New Media and Performance Arts from the University of Pisa (IT). He graduated with great distinction with research on the Italian legal framework regulating partnerships between public and no-profit sectors for the preservation and repurposing of historical buildings. He obtained his bachelor's degree in Cultural Heritage at the University of Catania (IT), writing a thesis on preparatory drawings by 16th-century Italian artist Agostino Ciampelli, in collaboration with the University Karlovav Praze (CZ). He investigates social and urban development by attending the International Summer School of Architecture, Art and Design (Periferica Festival, IT), the Training Course on Common Goods Management (SIBEC, IT), the International Summer School in Cultural Production in Urban Space (University of Copenhagen, DK). He attends the pluridisciplinary research atelier at the Academie de Beaux-Arts de Saint-Gilles in Brussels (BE).
He collaborates with the exhibit mediation and communication in the University of Cambridge Museums (UK), Museo Nazionale di San Matteo (IT), Museo Nazionale di Palazzo Reale (IT), Musée Art et Marges (BE). In 2020 he worked as a tutor in the Bachelor's course in Museum communication at the University of Pisa (IT). He works in management and communication for festivals, cultural projects and art galleries.