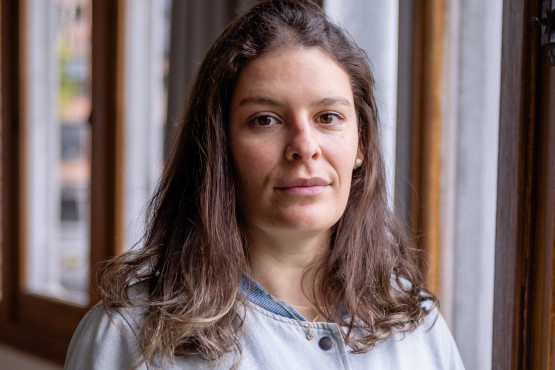 Laura Sofía Arbeláez
1999, Colombia
Laura Sofía Arbeláez has a double degree in History of Art and Fine Arts from the Universidad de Los Andes where she stood out as a monitor and research assistant on several occasions.
Additionally, she has a minor in History from the same university. In 2022, she completed her master's degree at the Erasmus University of Rotterdam in Art, Culture, and Society. During her master's, she researched the perception of stakeholders of counter-monuments.
Laura Sofía has extensive experience coordinating, producing, and curating artistic and cultural projects in Colombia.
In 2017, she served as Visual Arts advisor for the cross seasons of the Year Colombia-France, managing and advising more than ten exhibitions. She was curatorial assistant to Carolina Ponce de León, for the exhibition La Vuelta at the Rencontre d'Arles in 2017. She has developed alliances and projects in the public and private sectors, in addition to having worked for more than six years for the Colombian Ministry of Culture advising and assessing awards, calls, and scholarships for Colombian artists, such as with the Cité International des Arts de Paris and the Cité internationale de la bande dessinée et de l'image d'Angoulême. On the other hand, she was also in charge for three years of the design and implementation of education projects for artists and agents in the field of visual arts in Colombia.
Additionally, Laura worked hand in hand with the construction of the counter- monument Fragmentos, Espacio de Arte y Memoria by Colombian artist Doris Salcedo as one of the points of the Peace Agreement between the FARC-EP and the Colombian national government. In recent years he has performed tasks as a jury for public institutions in Colombia, such as the Secretary of Culture of Bogotá and the Ministry of Culture of Colombia. Her research interests include contemporary Latin American art and art projects about memory and reconciliation.