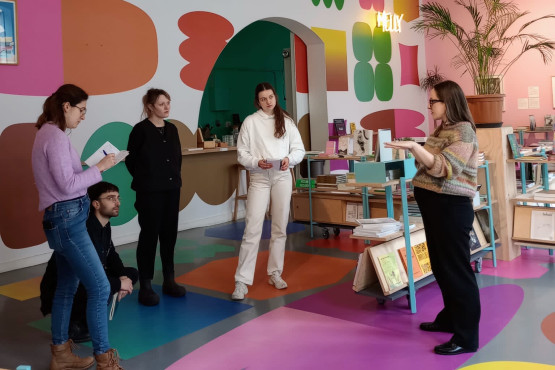 Curatorial Study Trip
21–22.03.2023
Rotterdam, Delft and Amsterdam
On Tuesday 21 and Wednesday 22 March, the CS participants visited institutions, galleries and museums in Rotterdam, Delft and Amsterdam.
On Tuesday, March 21st, the day began with a visit to Kunstinstitut Melly in Rotterdam where we met with Curator Rosa De Graaf who gave us some key insights into Melly's mission and programme, continued by a visit to the exhibition 'Still Shifting, Mother Field' by Jennifer Tee. Next, we visited the Depot of Boijmans Van Beuningen, the world's first publicly accessible art storage facility, designed by the architectural firm MVRDV. After lunch, we headed to A Tale of a Tub. Here, we met with Director Julia Geerlings and visited the exhibition 'Beyond a Certain Point There is No Return' curated by Katia Krupennikova. Later that day, we visited CCA Radius - center for contemporary art and ecology stationed in the pump house and water basin belonging to the Delft water tower, a historical monument and architectural landmark. Here, we met with Assistant Curator Sergi Pera Rusca who told us more about the founding of the institution and its vision, followed by a walk through the exhibition 'NatureCultures Chapter 1 The Measure of The World'.
The following day, Wednesday, March 22nd, we met in Amsterdam for a visit to Stedelijk Museum with Curator Karen Archey. We visited the new collection presentation. After lunch, we went to Framer Framed where we met with Jean Medina and visited the exhibition 'Charging Myths'. Finally, we headed for the Manifesta office at Rijksacademie, where we received an introduction by Yana Klichuk on the development of educational strategies within the European Nomadic Biennial.