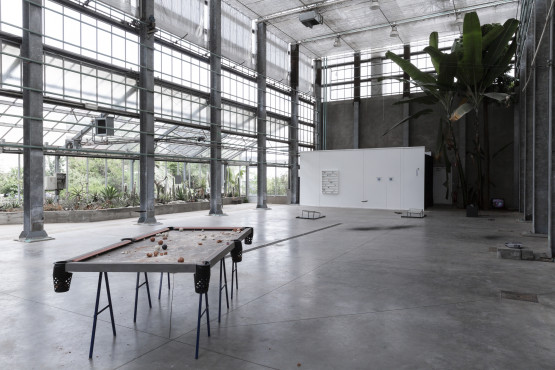 Harbinger
Common grounds between art and science
25.05–17.07.2019
Kunsthal Gent and Ghent University Botanical Garden
A ​HARBINGER​ is a forerunner. Historically linked to the idea of providing lodgments in advance, it indicates something or someone foreshadowing events in the future.
In the context of the EPS-HEP conference to be held in Ghent this summer, KASK's ​ 2018 - 2019 Curatorial Studies designed this series of events drawing closer lines between art and science in partnership with art@CMS, a programme developed under the CERN experiments in Geneva. A lecture cycle, a film programme and an exhibition,​ ​HARBINGER​ is an inquiry on some of the aspects that simultaneously approximate and distinguish these fields and practices. Dimensions such as prediction, intuition and foretelling play a particular role in both systems. ​Harbinger​ invites the audience to aim at the unknown through both disciplines to welcome what is next.
Download the harbinger-press_release_eng.pdf.
Full programme
-Discoteca Clandestina - 25.05.2019
Opening event, Kunsthal Gent
Harbinger I: First Signs - 31.05.2019 - 16.06.2019
Series of lectures and video screenings, Kunsthal Gent
Harbinger II: Subtle Collisions
06.07.2019 - 17.07.2019
Exhibition + workshops + performance, Ghent University Botanical Garden
Harbinger III: Imperfect Agreements - 2019 (publication)
Harbinger II: Subtle Collisions
Participating artists
Véronique Béland, Joris Blanckaert, Maria Boto & Kristel Peters - Biolab, Michiel De Cleene, Edith Dekyndt, Elias Heuninck, Nicolas Lamas, Ives Maes, Daan Paans, Other Women's flower, Pratchaya Phinthong, Leticia Ramos, Joost Rekveld, Dominique Somers, Todèl (Delphine Wibaux & Tom Rider), Chantal van Rijt, Ian Wilson.
Curated by
Atena Abrahimia, Johannes de Bruycker, Chris Dupuis, Lieselotte Egtberts, Monica Ruiz Loyola, Elisa Maupas, Laila Melchior, Lucie Ménard, Anna Stoppa, Mobina Tabar, Nasrin Tork, Gabriela Torres, Michiel Van Damme, Astrid Vereycken, Lenny Vervaeke