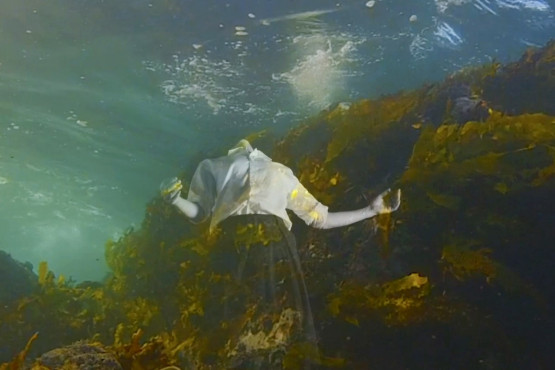 Masterclass: Oceanic Thinking, Hydrofeminism, and Other Liquid Ways of Seeing
with Heidi Ballet
14.10.2022–01.04.2023
This nomadic masterclass looks at how water has entered exhibition making, in ocean-themed exhibitions, or in works that emphasize water as our connection to the world. As part of a decolonial framing of the world, new narratives of history have developed that include the oceanic territory as a place that influenced global history and our identities through (slave) trade and war. The connection between water in the landscape and water in our bodies is emphasised in hydrofeminism, a way of thinking that sees humans as part of a large hydraulic environment, as one of many organisms that depend on water for life, connected to the world through cycles of fluids. A challenge could be this: how to develop a new perspective on Antwerp, that is not based on land but on water?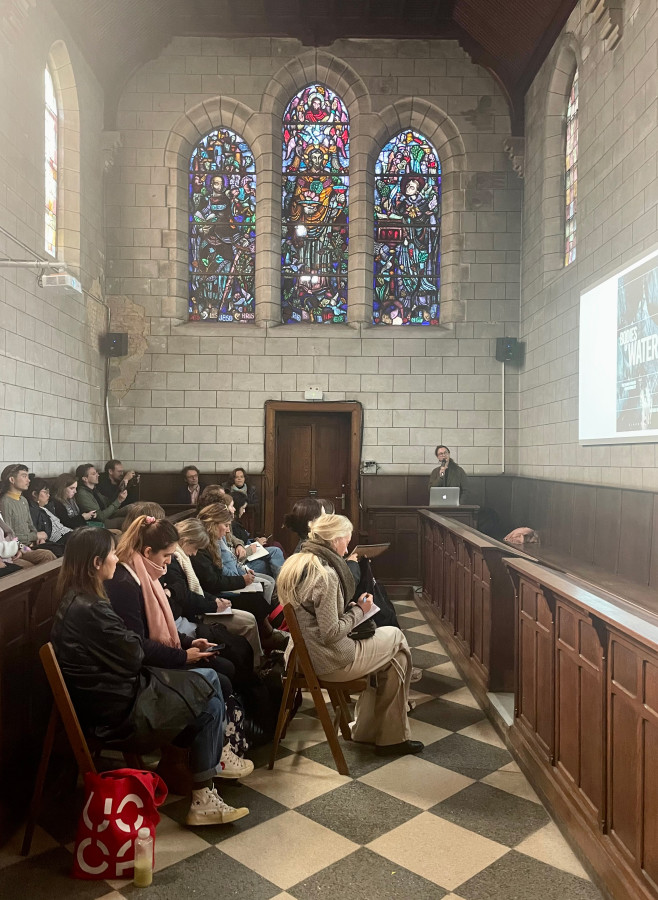 Programme
14-15.10.2022: Phase 1 - Immersion
• Rights of Nature programme open to the public
What rights does nature have? More and more climate disputes are attracting our attention. Can 'rights of nature' or 'ecological justice' provide an answer? What is the relationship between these visions and what does art enable in all this?
This phase of the nomadic masterclass happens in the framework of Klimaatfestival Antwerpen and a collaboration between Sint Lucas Antwerpen School of Arts, Extra City, FOMU Antwerpen, Curatorial Studies KASK & Conservatorium/ School of Arts.
14.10.2022
Rights of Nature, the Zoöp Model, and climate litigation
Seminar
10:00 - 13:00
Dorine van Norren, Mihnea Tănăsescu, Klaas Kuitenbrouwer, Aoife Fleming
Theaterzaal, Het Bos
WHEN BRONZES MELT INTO GAB
Training monuments to be relational objects and allies for alternative futures Workshop | Simona Da Pozzo
10:00 - 13:00
Room 3.09, Campus Sint Lucas Antwerpen
ADMA @ FRANS MASEREEL @ MORPHO
Sharing the outcome of Frans Masereel Residence Research sharing
Advanced Master of Research 2021-22 Participants
11:00 - 17:00
Refectory, Morpho (entrance via Extra City)
Nineteen Discussions for Photographers and Artists in the Age of Climate Crisis Workshop Taco Hidde Bakker
14:00 - 17:00
Seminarielokaal, FOMU
Songs from the compost: mutating bodies, imploding stars
Film screening & after-talk with the artist Eglė Budvytytė
19:30 - 21:00
Kunsthal Extra City
15.10.2022
Curating with the planet, hydrofeminism and other approaches Lecture
Heidi Ballet
15:00 - 16:00
Kunsthal Extra City
Silent Echoes: video and performance piece Screening | Dorine van Meel
16:30 - 17:30 | Kunsthal Extra City
CIRCUITS & NERVES
A Performative Sound Installation Performance by Mona Hedayati (PhD)
19:00 - 19:30
Kunsthal Extra City
Listening session Performance
Aio Frei
20:00 - 21:00
Kunsthal Extra City
17.10.2022: Phase 2 - Curatorial research
Briefing by Heidi Ballet on the assignment to develop a curatorial proposal related to the cultural-historical significance of water in the port city of Antwerp
16.01.2023: Phase 3 - Feedback session with Heidi Ballet
March-April 2023: Phase 4 - Presentation by CS participants
Supported by Nomadic School of Art
Within the framework of the Nomadic School of Art aimed at developing innovative educational methods, Curatorial Studies translates the format of the masterclass (often 2-5 consecutive days) into an educational format that runs through the time span of an academic year and is set in different locations. The aim is to go beyond the mere thematic in favour of more sustainable engagements, embedding concerns with curatorial questions around ecology, decolonisation and intersectional feminism more thoroughly within the programme's DNA.
Biography
Heidi Ballet works as a curator at deSingel in Antwerp. She has a research interest in oceans, bodies of water, and the philosophical consequences of climate change. She is currently curating the 2021 Beaufort Triennial, a public art triennial that takes place along the Belgian coast. Exhibitions that she recently curated include the 2019 Tallinn Photomonth Biennial, the 2017 Lofoten Biennial (LIAF) and the exhibition series Our Ocean, Your Horizon at Jeu de Paume Paris and CAPC Bordeaux (2016). Between 2012 and 2015, Ballet worked as a research curator for After Year Zero at Haus der Kulturen der Welt in Berlin, a project that later travelled to the Warsaw Museum of Modern Art and included a publication. Her writing has appeared in Mousse Magazine, Randian and Art Papers. Thematically, I am currently looking at themes that are related to the climate crisis, particularly the idea of anthropocentrism and the consequences of the changed view on 'man' versus nature. In this, the ongoing effects of the domination of Western thought over other knowledge production. I just started new research on the concept of walking for an exhibition and have a long-term research interest in oceans and by extension all different types of unstable grey zones. Medium-wise, I have a particular interest in public sculpture and video.