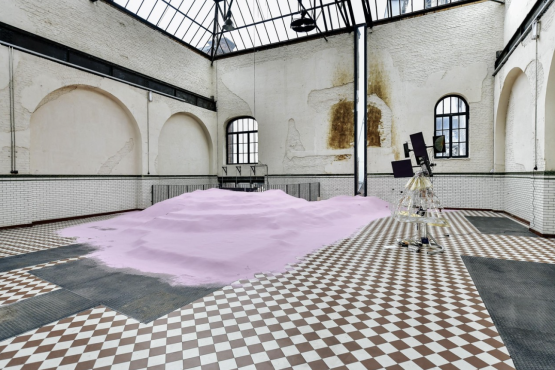 Open Call
Jester Curatorial Fellowship
Jester Curatorial Fellowship
Jester is looking for a curatorial fellow to join the artistic team in the second part of 2023. The fellow is going to play an important role in the execution of Jester's artistic programme, including development trajectories with artists-in-residence and presentation moments. This is a part-time, paid position.
About Jester
As a lively organisation for contemporary art, Jester works hands-on to create distinctive projects, in which development and presentation are central. The combination of living (residency), working (studios and workplaces) and making public (exhibitions, screenings, performances, and more, both online and offline) generates an ever-changing constellation, where different artistic trajectories can run in parallel or intersect.
Jester is based at the heart of an area in development (on the C-mine site in Genk) – a focal point where various global transformation processes and their economic, ecological, and social consequences become tangible. Genk is located in the heart of Euregio, just a stone's throw away from Aachen, Düsseldorf, Maastricht, or Liège.
Jester was born out of the merger between CIAP and FLACC. Since the fall of 2021 Jester has been working towards the new organisation that launched its programme in March this year and that will open move to its new location in the fall.
What we offer
As a fellow, you have an opportunity to become part of a vibrant, artist-centered organisation, operating both locally and internationally and work together with our staff, artists, and partners.
You support the artistic team in developing and executing the artistic programme in the second half of 2023 (see below). You have room to contribute new ideas and content, within the programming framework established by Jester.
Jester works with a small team where most responsibilities are shared, therefore, you will also be partly responsible for communication and/or production aspects of the projects you will be involved in.
A couple of mile-stones in our 2023 programme are:
The opening weekend. In November, Jester will celebrate the opening of its new house on the C-mine site with a weekend of events, performances, lectures, open studios. You will play an important role in developing and coordinating this programme.
The artist book fair. In collaboration with partners (Oda Park, PXL, Zero Desk), Jester is developing a second edition of the artist book fair focusing on publishing as an artistic practice. Spanning two days, it combines a symposium with a lively presentation of a wide selection of artists' publications. You will play an important role in developing and coordinating this project.
Artists-in-residece. In the second part 2023, Jester will welcome several artists-in-residence, who come to Genk to develop their research and/or produce new work. Depending on the workload and interest, you may be involved in these trajectories, through studio-visits, research support, etc.
What we are looking for:
You will be entering the organisation at a moment of transition, which presents both a challenge and an opportunity. We are looking for someone who:
has a hands-on mentality and has experience in coordinating cultural projects
is familiar with contemporary art and its discourses and brings their own strong interests and ideas to the table
has strong communicative and writing skills in English and/ or Dutch (knowledge of Dutch is a plus but not a requirement)
does not mind multitasking and combining curatorial work with production and communication
Practical information:
For whom?
Students and alumni from the Curatorial Studies programme at KASK
Duration
Part time (2 days a week), starting in June and ending in December.
Remuneration
Jester offers 8,000 EUR fee (incl. tax) and accommodation in Genk.
How to apply?
Please send your CV and motivation letter (both max. 1 A4) by Monday 8 May to Alicja Melzacka - alicja@jester.be