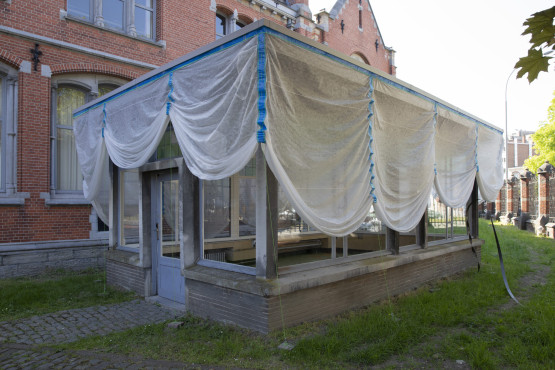 Poetics of Hospitality: Chapter II
The Waiting Room: Emma Cogné, Eline Harmse & Sina Hensel
18.03–15.05.2022
Het Paviljoen, KASK & Conservatorium School of Arts
Poetics of hospitality*
*Poetics of hospitality* is an artistic and curatorial reflection conceived as a series of three chapters addressing the notion of hospitality and the unspoken rules that underlie this universally-shared custom. The word hospitality in and of itself – derived from the Latin word hospes*, which means both 'host'- the one who receives – and 'guest' – the one who is received – invokes the complexity of the host-hosted relationship.
Departing from the form of the pavilion, a transitional structure that challenges the concepts of property, territoriality, and borders, Poetics of hospitality invites artists to question their link to this space as potential guests or hosts.
🗝 Curated by Marion Adrian & Sungyoon Ahn 🗝
This second chapter examines the expectations, doubts and hopes that guests and hosts may hold towards each other. Observing this suspended moment, right before the door opens, where until the encounter happens, the other is still for a few more seconds a mental projection, a glimpse of unknown territory.
The group exhibition The Waiting Room brings together artists Emma Cogné, Eline Harmse and Sina Hensel. It draws on the historical context of the space, which was originally conceived as a waiting room for pregnant women at a time when the KASK & Conservatorium at School of Art Gent was a city hospital. Its function was to separate these women from other patients to protect them from any kind of infection.
Through their individual interventions, the three artists summon the former figure of these awaiting bodies. They each initiate, in a very personal way, a process of rediscovery and reaffirmation of the space. In a continuous back-and-forth between inside and outside, their installations and sculptures unfold, meet, warm up or dress the space and momentarily conjure up ideal or idealised waiting conditions.
Emma Cogné (1993, France)
Underbelly, 2022
Frost protection fabric, plastic seed bags and ropes.
Textile designer Emma Cogné often chooses her materials based on their physical properties and ability to resist their environment before diverting them from their initial functions. With Underbelly, she creates a drapery that unfolds around the pavilion like a protective second skin, concealing to reveal better what lies inside. Custom-sewn by hand from a fabric used in agriculture to protect seedlings from the cold and plastic bags of seeds collected around the farm where she lives, this spontaneous assemblage evokes the shape of heavy curtains once found in the confined atmosphere of a boudoir (a small room in a dwelling in which the mistress of the house could retreat, or receive her guests). By introducing this element, Cogné not only transforms the pavilion into a fertile space to be protected but also makes it hospitable by creating the conditions for possible intimacy.
Sina Hensel (1986, Germany)
Devices to recoat faded skins, 2021
Fired clay with imprints of UV-processed leaves, dried salmon skin and flesh, feathers of Scarlet Ibis (Guará) and orange peel, heating cables, plaster, fabric cables and Phycocyanin pigment.
Devices to recoat faded skins are part of a larger research Sina Hensel is conducting on pigments and their transformations at the RWTH Aachen University, FHNW Academy of Art and Design Basel/CH, Academy of Arts Linz/AUS and KASK & Conservatorium/School of Arts Ghent/BE. This installation consists of ceramic heaters that hold the imprints of different membranes, vegetables or animals such as salmon or orange skins, known for their ability to hold/store pigments. In her studio, Hensel also uses these heaters to dry and fix the colour of pieces of fabric she dyes with adaptive pigments from microalgae and cyanobacteria. Traces of these same pigments, applied in thin layers, are found on some of the pavilion's floor tiles.
In both sculptures with organic forms and functional devices, her pieces modify the temperature of the pavilion, even making this heat visible through the effect of condensation. With this discrete action, Hensel emphasizes the materiality of this heat: hospitable, healing and protective, which, like colour, cannot be fully contained and circulates through bodies, textures, spaces and materials.
Eline Harmse (1993, The Netherlands)
Assembly Drawing, 2022
Steel slats, ceramic, and magnets.
Eline Harmse is interested in creating situations and environments that require physical involvement. Either through scale, form, or accessibility, her sculptures immediately activate one's body awareness. Based on a loosely drawn structure, Assembly Drawing is made of metal strips and ceramic pieces attached by magnets that copy and infiltrate their surroundings. This composition manifests the reciprocal force of two entities that compress, pull or twist each other. It does not aim to generate a centre but instead invites the viewer to approach it from different perspectives, exploring the relationship between the 'visitor' and the 'visited'.