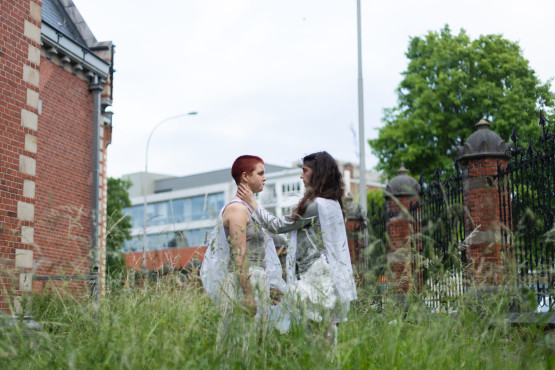 Poetics of Hospitality: Chapter III
Common Ground
09.06.2022, 18:30–22:00
Het Paviljoen, KASK & Conservatorium/ School of Arts
Poetics of hospitality*
Poetics of hospitality is an artistic and curatorial reflection conceived as a series of three chapters addressing the notion of hospitality and the unspoken rules that underlie this universally-shared custom. The word hospitality in and of itself – derived from the Latin word hospes, which means both 'host'- the one who receives – and 'guest' – the one who is received – invokes the complexity of the host-hosted relationship.
Departing from the form of the pavilion, a transitional structure that challenges the concepts of property, territoriality, and borders, Poetics of hospitality invites artists to question their link to this space as potential guests or hosts.
🗝 Curated by Marion Adrian & Sungyoon Ahn 🗝
Bringing together a group of individual and collective performers, Common Ground, the third and final chapter of this trilogy, presents an evening programme that focuses specifically on the practice of 'performance' as a privileged means of embodying these two figures, host and guest. Through their rituals and dramaturgy, the performative bodies invent fluid ways of inhabiting each role and in so doing, gradually blur the boundaries that separate them from one another.
The movements, stories, and sounds that permeate the Pavilion and its environment turn it into an uncertain terrain of collective creation, where temporary links based on reciprocity are established between the performers, the works, and the audience.
Common Ground reveals discreet, often invisible structures which stimulate symbiotic behaviours by reactivating simple but essential gestures: sitting next to, caressing, whispering, caring, cleaning, healing and feeding.
Programme
**18:30
Pierre-Yves Delannoy, A Picnic Under Cover (±55') – EN
Before entering the garden of queens, you should know that it all started with a plate. In the wild forest, we will be like shells landing on the beach. After boiling together, we will absorb, hearing their roots. A Picnic Under Cover is a ritual where it is not just humans who tell stories, where things are lost and can be rediscovered. Against the backdrop of a never-begun travelogue, we will share something to eat and to drink.
Pierre-Yves Delannoy (b.1995, FR) is a performer and gleaner who lives and works between Ghent and Munich. Through his practice, he develops a multidisciplinary associative approach based on intimate uprisings. This results in an accumulation of poetic archives that document an alternative narrative process. In 2022, he exhibited in Lassitude, Goethe-Institut (Paris, FR), Guangzhou Contemporary Art Fair (CN). In 2021, he participated in the exhibition Got something to say about Europe! at Kunstarkaden (Munich, DE), and performed at Body without organs at Sugar Mountain (Munich, DE). Pierre-Yves Delannoy is currently studying Media Art and Performance in Munich (Akademie der Bildenden Künste München, DE) and Ghent (KASK & Conservatorium / School of Arts Gent, BE). In 2019, he obtained a MA in Architecture (École Nationale Supérieure d'Architecture de Versailles, FR).
**19:45
Mary Szydłowska, The soap didn't give me the foam I wished for (±40')
Cleaning gestures are one of the gestures of care. By touching outside layers of the world, the gestures move the world on its micro-material levels, continuously proposing new (dis)orders. In this performance, Mary Szydłowska approaches her research on cleaning and maintenance practices as a collage – emerging from her diptych of solo works SOAK and LEAKS. Looking at soaking, leaking, and foaming, she traces how working bodies are made invisible, asking once again: what does cleaning do?
Mary Szydłowska (b.1993, PL) is a Brussels-based choreographer and performer. Her work feeds on the notions of the peripheral, withdrawn and invisible, followed within architectural spaces and institutional environments. She works with objects, fabrics and hand gestures as a means of creating attention limbos. Her work expands towards sculpture and installations in which she performs. In 2020 and 2021 she made a diptych of solos, SOAK and LEAKS, as a part of her research on cleaning and maintenance practices. The diptych traced the transformation of cleaning as one of the gestures of care, towards its recent exposure in public and private spaces within the regimes of sanitisation. In September, LEAKS will be part of the Generation Brussels group exhibition during Brussels Gallery Weekend. In 2022, SOAK premiered in Beursschouwburg (Brussels, BE). In 2021, Mary Szydłowska graduated from MA STUDIOS programme at P.A.R.T.S. (Brussels, BE).
20:50
Alice Giuliani & Camilla Strandhagen, And everything is as porous as bodily crack (±25') – EN.
Collaborating with the artists Louise Dupont and Salomé Singh for the costumes and the scenography. The sculpture Souche, 2021 by Salomé Singh is also part of the performance. Music by Acte Bonté.
Alice Giuliani and Camilla Strandhagen met two years ago in Brussels. Their work resides in the field of dance and performance where they together try to render interior landscapes visible. And everything is as porous as a bodily crack is their first collaboration, where they invite the audience to cross between the private and public spheres. Through the intimate actions of poetry reading, quiet humming and shared tears, the performance attempts to address the invisible labour around sickness and care and to question the shapes and gestures they may take.
Alice Giuliani (b.1994, IT) is an artist active in the field of performing arts based in Brussels. She identifies as a person with chronic illness, a spoonie. In the past years, she collaborated as a performer for various European productions mainly focused on vibrant and emotional body language, singing and inclusive practices. She is interested in the body as a place of vulnerability, identity and fantasy. As a choreographer she is working on the solo performance A foggy day, a room poured over me, developed in ISAC (Institut Supérieur des Arts et des Chorégraphies (Brussels, BE), and supported by the wp Zimmer residency (Antwerp, BE) in 2023.
Camilla Strandhagen (b.1992, NO) is a dancer and performance maker based in Brussels. She is curious about the relationship between mental and physical states and struggles and uses imagination, dreaming and physical practices to shed light on these murky corners. She finds it crucial to address vulnerability and allow its presence in the making of the work, as well as in work itself. Camilla is part of the collective "Eros" which made HAVEN in 2020 and will premier GOTTEM in 2023. Together with Parvin Saljoughi they will be artists in residence at PACT Zollverein (Essen, DE) in 2022.
Alice Giuliani and Camilla Strandhagen will graduate with a MA from ISAC – Institut Supérieur des Arts et des Chorégraphies at the Académie Royale des Beaux-Arts de Bruxelles – next year.
21:20
Barbara Boon, Make Place! Make Place! Make Place! (±20') – EN
With the participation of the performer Suzanne Cleerdin.
In life you move from place to place, trying not to bump into the boundaries of each space. But those boundaries sometimes overlap or are not always clearly defined. Like an uninvited guest, the performers disrupt each other's space and have to make room for each other. That which you thought you owned changes its function. The space is no longer yours, and suddenly you become a guest in your own space. This game takes place in a transparent space; the audience all around watches it happen.
Barbara Boon is a multidisciplinary collective based in Ghent and composed of four members, all currently studying at KASK & Conservatorium / School of Arts Gent: Kiara Govaert (b.1999), BE, Luka Mariën (b.2000, BE), Quinten Tessenaere (b.2000, BE) (Performance department), and Henri Cuelenaere (b.1999, BE) (Painting department). Founded this year, the collective combines their multiple interests into performances: from music to painting, as well as literature, improvisation and theatre. The convergence of these different registers generates a bizarre world with zany stories and strange twists, an eternal subject of exploration for the collective. In 2022, Barbara Boon performed for Mayday Mayday Festival at Campo (Ghent, BE).