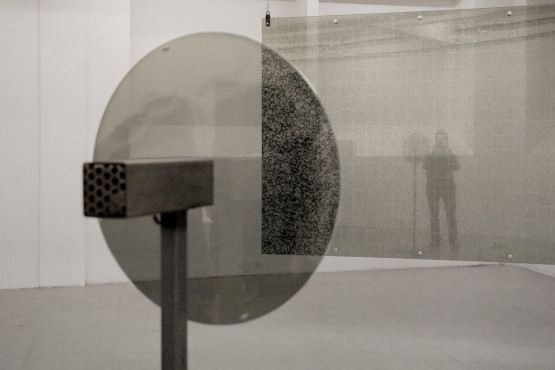 Recurrence
an exhibition with Davide Tidoni, Dominik't Jolle, Maria Komarova, Johannes Langkamp, Mats Dekock, and Wim Janssen
22.05–06.06.2021
iMAL, Brussels
Following three previous editions, the exhibition titled Recurrence is the fourth iteration of a joint presentation of Werktank and Overtoon's past residents. The exhibited works all share a particular state of repetitiveness, an occurrence of something that presents itself again periodically and repeatedly. Each work seeks to bring the visitor into a perceptual field at the crossroads of art and technology. Using subtle or palpable kinetic movements, the works evoke different sensibilities, reconstructing several sorts of mental landscapes.
Recurrence presents five works by six artists, Davide Tidoni, Dominik't Jolle and Maria Komarova were artists in residency at Overtoon. Artists Johannes Langkamp, Mats Dekock, and Wim Janssen were residency at Werktank. All their presented works on view are brought together by an attempt to compose a moment of recurrence, evoking either a particular thought, image, or memory.
Recurrence is a group exhibition curated by Yimeng Wang, in collaboration with Sung Yoon Ahn, students of the Curatorial Studies postgraduate programme at KASK & Conservatorium / School of Arts.
Werktank
Werktank is a production platform for media art. Its main mission is the realization and distribution of installation art that investigates the relationship between technology and perception. Their headquarters are situated in the heart of the city of Leuven (Belgium) and consist of offices, workspaces, and a technical workshop.
Overtoon
Overtoon is an artist-run platform for research, production, and distribution of sound art and sound-based installation art or experimental media art. Artists can use a workspace in the centre of Brussels, production tools, technical expertise, artistic feedback, production admin, financial support, and a broad international network.