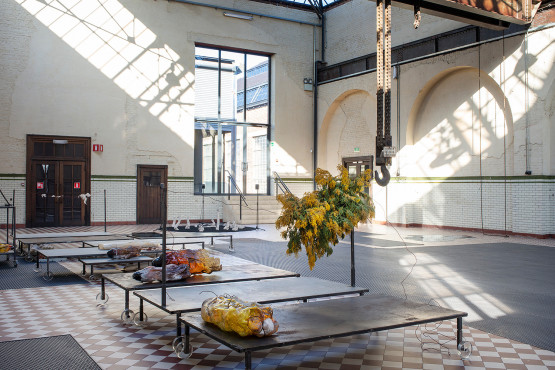 Three Tropes for Entropy
Curated by Laila Melchior and Koi Persyn
05.02–03.04.2022
CIAP Kunstverein, Genk
Lichen Prize for Curators
As a testing ground for visual thinking in diverse forms, CIAP and Curatorial Studies at KASK & Conservatorium/ School of Arts have initiated and endowed the Lichen Prize for Curators to foster and support curatorial innovation in Belgium. The call is open to all alumnae and alumni of the Curatorial Studies programme – as well as of its earlier forms: TEBEAC and 'Beheer, conservatie en restauratie van museale collecties hedendaagse kunst' – regardless of age, current professional status or geographic location.
With works by mountaincutters, Angyvir Padilla and Daniel Steegmann Mangrané, Three Tropes for Entropy delves into three distinctive artistic practices, presenting their singular approaches towards notions of flux, energy, and transformation.
Laila Melchior and Koi Persyn — laureates of the second edition of the Lichen Curatorial Prize — present a transformative exhibition connecting three artistic practices and methodologies to the unique site of the former Winterslag coal mine. Having hosted an industrial complex of coal exploitation for approximately a century, this former mine site embodies the capacity to generate and process energy not only through its history but also in its recent transformation into a creative hub.
'Trope' and 'entropy' share the same ancient Greek root in the word τττπτ, evoking the ideas of turn and transmutation. Tropes are literary motifs that use figurative forms of language to increase the tangibility of meaning, stimulating associative perceptions. Entropy is a term that has gained momentum in current times. A scientific concept that stems from thermodynamics, it indicates a transmission process within a closed circuit. Drawing from this specific usage to a more general one, it has been widely used to exemplify the irreversibility of time, of processes that have a clear start but no defined end and that can become quite invisible, as much as they are omnipresent.
In parallel with and inspired by such a mixture of possible approaches to the phenomenon of transformation, the exhibition itself undergoes a change over its course. Three Tropes for Entropy opens with clusters of works highlighting each participating practice and gradually evolves towards an intermingled diffusion of particles. These transformations will be marked by three activated moments or chapters – identified by the curatorial duo as the exhibition's 'tropes.' These gradual changes allow for interactions between the works themselves and the space, modulating intensities to render visible the mutability that circulates inside the engines of practices.