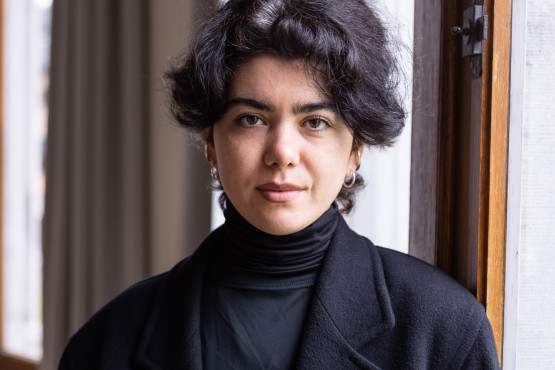 Sophie Fitze
1995, Leipzig, Germany
Sophie Fitze is a Brussels-based visual artist and artworker. She graduated from the HGB Academy of Fine Arts Leipzig in 2020 with a diploma in Fine Arts. Her installations and object-related works circle topics of love, intimacy and desire in an emotionally cooled-down society. At a theoretical intersection, she addresses questions such as how affects, emotions, and is situated in a body become foundations for an alternative generation of knowledge. How does a "language of love" break with established concepts of knowledge and hierarchies? How can embodied experience become a medium of collective experience and learning?
In addition to the participation in exhibitions at BSMNT (Leipzig) and IfZ (Leipzig), among others, she contributed to publications such as synchron.magazin or deleuzine. After a study-related stay at ENSAV La Cambre in 2019, she followed up with an internship at La Loge in Brussels, where she accompanied the realisation of the exhibitions of Carey Young as wellas the Brussels-based association RotorDC. She held other positions at dépendance and Damien&The Love Guru.
Most recently, she completed an internship at WIELS, which included the implementation of a retrospective on the Lebanese artist Huguette Caland. Currently, she is the artistic assistant of Danai Anesiadou. Besides, she has been a member of the artist cooperative Level Five in Brussels since this year.