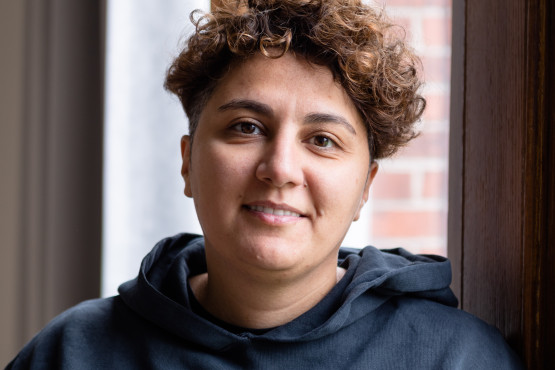 Victoria Danelian
1980, Tbilisi, Georgia
Victoria Danelian is a curator, cultural manager and creative producer based in Ukraine. Victoria has been working in the cultural field since 2009. Her background includes a long career in advertising, economics and psychoanalytic education. Since 2011 she has been the co-founder of the Interdisciplinary centre of art and culture development "Dream Projects" (Ukraine, Georgia), where she produced and organised more than 20 large-scale projects, including artists in residency programmes, exhibitions, performances, educational programmes and many others. Furthermore, she presented a few personal artworks at co-curated exhibitions at museums and public spaces. From 2017 to 2022, she was the co-author and trainer in Cultural Leadership Academy at Goethe- Institute Ukraine. Victoria has also cooperated with such international institutions as the British Council Ukraine, Adam Mickiewicz Institute, Ukrainian Cultural Foundation, and House of Europe Ukraine.
Victoria Danelian's curatorial projects are aimed at changes in society. She mostly works on the phenomenon of public and private memory and cultural identity issues, collaborating with museums, public spaces, archives, contemporary artists with different cultural backgrounds, art researchers and scientists to grow interdisciplinary projects. In her work, she researched and deeply investigated heritage, archives, and personal stories of people and developed projects with emerging artists mostly in nomadic residences.
Her exhibitions (2016-2019) were realised in unconventional public spaces and non-traditional art places that, thanks to these projects, returned to life and acquired cultural significance (e.g. ruined cinema theatre "Suputnyk" in Lviv, Ukraine). In 2021, she co-curated the summer school "Un/Archiving post/industry" in Pokrovsk Historical Museum (Donbas, Ukraine). Industrialisation was one of the key topics of the project. In the summer of 2022, within "Artisterium 15 - Tbilisi International Contemporary Art Exhibition and Art Events", she co-curated the exhibition "Tomorrow (http://tomorrow.dream- projects.org/)" at the Museum of Georgian Literature. The exhibition tells the story of the people affected by the war. The project supported Ukrainian artists and disseminated information about Ukraine nowadays. In September 2022, Victoria joined the postgraduate Curatorial Studies programme at KASK School of Arts.