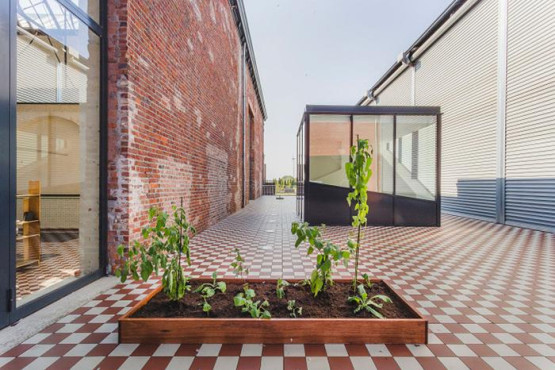 Petrichor
Curated by Lucie Ménard
13.09–08.11.2020
CIAP Kunstverein, Genk
Lichen Prize for Curators
As a testing ground for visual thinking in diverse forms, CIAP and Curatorial Studies at KASK & Conservatorium/ School of Arts have initiated and endowed the Lichen Prize for Curators to foster and support curatorial innovation in Belgium. The call is open to all alumnae and alumni of the Curatorial Studies programme – as well as of its earlier forms: TEBEAC and 'Beheer, conservatie en restauratie van museale collecties hedendaagse kunst' – regardless of age, current professional status or geographic location.
CIAP and Curatorial Studies proudly present a group exhibition Petrichor, curated by the laureate of the 2019 edition, Lucie Ménard.
Named after the heady scent emanating from the dry soil during the summer rain, Petrichor echoes the evanescent character of the artistic practices included in the exhibition. It is a celebration of micro-phenomena, inviting us to slow down and focus on the almost imperceptible processes surrounding us at every moment. A gesture that might seem simple but holds profound political implications, especially today, in the face of the global slowdown caused by the pandemic. As the world stands still, our relationship to labour and productivity is disrupted. What if this forced stop would become an occasion to unlearn and become aware of what surrounds us?
Crystallising or distorting, accelerating or slowing down, the invited artists explore, each in their own way, different strategies of dealing with the temporalities that both surround and compose us. They remind us that we ourselves are temporalities in constant movement, the aggregates of intimate memories and sensory experiences.
Luca Vanello (°1986, Trieste) combines perishable and organic materials with durable, synthetic ones to create his hybrid objects. Playing with various ways to alter the life cycles of the materials, he creates sculptures that seem to be frozen in time, neither developing nor deteriorating and in doing so highlights the vulnerability and circularity of all living organisms. In the works of Ismaïl Bahri (°1978, Tunis), the seemingly mundane acts, such as water dripping Sina Hensel (°1986, Mainz) and Bárbara Prada (°1990, Lima) work with organic materials, whose vitality and impermanence play a crucial role in their artistic practices. Hensel shares her studio with various species of plants, algae, and other organisms that partake in her creative process. The acts of researching, nurturing, and harvesting are all embedded in the layers of her paintings, which just like the natural pigments she uses, alter with time and changing atmospheric conditions. Prada's practice revolves around food and the stories surrounding it, including forgotten recipes and bits and pieces of vernacular knowledge. She is particularly interested in how food can help us reconnect with our past and relate differently to the present. Félicia Atkinson's (1981, Paris) soundscapes are compositions of different elements, such as spoken language and sounds recorded in-situ, which generate a specific ambience, transporting the listener to another place. The encounter with the work might not take place when one is facing it, she says. We always bring back something precious with us, as a secret slipped into our pocket.
Biography
Lucie Ménard (1987, Caen) is an independent curator living in Lille. She is a 2019 alumna of the international post-graduate program Curatorial Studies at KASK School of Arts, Ghent, where she co-curated Weekend at Charlie's, an exhibition about the collection of architect Charles Vandenhove and Harbinger: Subtle collision, an exhibition about prediction in art and science, in collaboration with art@CERN in Geneva. In summer 2019, while on residency in Kanazawa (Japan), she developed a project mapping the artistic scenes of the twin cities of Ghent and Kanazawa. Since 2012, she has worked as the head of education programmes at Le Fresnoy — Studio national des arts contemporains in Tourcoing. She is one of the co-founders of moss, a cross-border collective for curatorial projects founded in 2020 in Ghent with Lieselotte Egtberts, Elisa Maupas, and Anna Stoppa.
The project is a collaboration with CIAP and it was realised with the support of the Flemish Community, the City of Genk, and CIAP members.