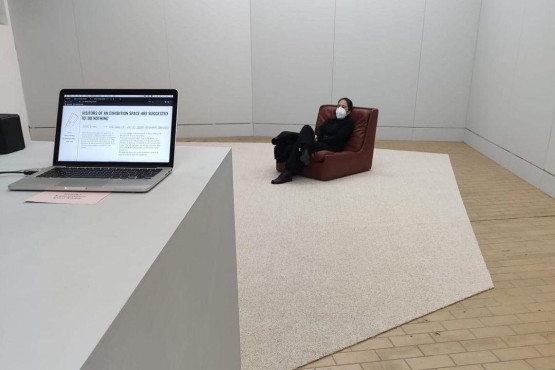 Masterclass: Fair Practices and Fair Pay
Art Workers Italia, Jesse Van Winden, Katya Ev, Olivier Lenaerts and Gertjan Verachtert
12.05–02.06.2021
KASK & Conservatorium/ School of Arts
Curatorial Studies organises a series of meetings, one each week, spread over four weeks, to observe and reflect on the labour conditions of art workers on both a national and international level. This masterclass is intended as an opportunity to bring artists and curators together to examine the financial, legal, and ethical conditions of the ecosystem and learn together.
Programme
Art workers associations: the example of AWI - Art Workers Italia
with Ilaria Conti and Alessandra Saviotti
12.05.2022
15:00-17:00
The focus of this masterclass will be on the work of AWI - Art Workers Italia - an association that works with ethical, contractual and legal tools to protect art workers. Ilaria Conti and Alessandra Saviotti, both association members, will talk specifically about the experience of the research groups with international work models, the Hyperunionisation / Hypermates project and the methodology for creating a remuneration table based on a transversal and multidisciplinary approach.
What's on the budget?
with Jesse van Winden
18.05.2022
10:00-13:00
The budget of an exhibition or an event can be considered as if it were a menu: there are cooks and managers behind it who make considered decisions on what's on it; there should be something for everyone, it should be tasty and healthy, and it reflects a certain value for money.
Except, as an artist or a freelance curator (or a technician, photographer, or communications assistant for that matter) you don't get to choose - if you even get to see the budget, which is rarely the case.
Recently, concerns with the increasing precariousness of art workers have led to calculators bringing together parameters and variables to suggest fair fees. Are they the answer, and if yes, what should be the elements and factors included?
Proposals and production - reflections about invisible work within the art practice
with Katya Ev
25.05.2022
10:00-13:00
Artworks that operate in the field of critical socio-political discourse often relate to process-based explorations, participatory or delegated performances or multi-layered set-ups that have a lifetime of a butterfly. Their essence falls within the absence of durational and fixed materiality; they can not be easily conserved and monetised. At the same time, they result from complex research and production processes and cross-disciplinary collaborations. What is(are) the economy(s) of such practices and gives them an institutional presence? How to commission artworks that relate to such practices and how to financially quantify the labour and time fairly and sustainably, both for the artist and for the institution?
In this hands-on workshop, Katya Ev will talk about her practice and invite participants to participate in working groups and approach those questions through a case study based on real examples of artwork commissions. The workshop aims to develop a collective reflection on how to implement fair practices and compensations on a practical level, in terms of time and labour and starting from project proposals and 'through the whole process of artworks' production.
Legal perspectives
with Olivier Lenaerts and Gertjan Verachtert
02.06.2022
10:00-13:00
In this masterclass, Oliver Lenaerts, a lawyer at Contour Law, will discuss the legal ramifications of the qualification of an object of property as an object of art and, respectively, of its creator as an artist. He also examines the interplay between the artist and the curator in exhibiting, procuring, and selling art. In a consecutive session Gertjan Verachtert, a lawyer at Sansen International tax lawyers, discusses relevant (international) tax aspects for the management of art.
Biographies
Ilaria Conti
As an independent curator, Ilaria Conti focuses on research-based practices engaging with decolonial epistemologies and the relationship between institutional infrastructures, communal care, and civic agency.
Most recently, she served as Research Curator at the Centre Pompidou for Cosmopolis, a multiyear platform devoted to research-based art. Previously, she served as Exhibitions and Programs Director at CIMA New York, Assistant Curator of the 2016 Marrakech Biennale, and Samuel H. Kress Interpretive Fellow at the Metropolitan Museum of Art, among other positions. She is the Vice-President of the African Art in Venice Forum. She holds a BA and MA in Art History and Curatorial Studies from the University of Rome La Sapienza and an MA in Visual Arts Management from New York University.
Curated projects include: Pensiero Plurale (2021), Rethinking Nature (2021), ALT(ering) + SHIFT(ing) + COMM(uning) (2020-), Prove di R(i)esistenza (2020), Making Space: Art & Generative Communal Practices (2020), Labor/Art/Auratic Conditions (2020), Cosmopolis #2: Rethinking the Human (2019), Cosmopolis #1.5: Enlarged Intelligence (2018), Cosmopolis #1: Collective Intelligence (2017), 6th Marrakech Biennale: Not New Now (2016).
www.ilariaconti.me
Katya Ev
Katya Ev's time-based, performative practice explores institutional critique, issues of power and control, and potential for individual agency within dominant power structures in relation to specific political situations or events. Ev lives and works between Paris and Brussels, and recently completed the postgraduate residency at HISK, Ghent, after graduating from ENS des Beaux Arts de Paris and completing an MA in Political Science at Lomonossof University, Moscow. Her work has been exhibited at i.a. Netwerk Aalst (2021), MHKA (Antwerp, 2020), Palais de Tokyo (Paris, 2018), the 6th Thessaloniki Biennal (2017, parallel programme), Winzavod Art Center (Moscow, 2015, 6th Moscow Biennial special project) among others https://www.katyaev.com/
Olivier Lenaerts
Olivier Lenaerts is an alumnus of the Sorbonne and the University of Leuven. He practices art law and business law. He teaches artlaw and regularly addresses a professional audience on artlaw matters. He has written several academic publications on artlaw and has expertise in art financing and regulation of the art market. He is the author and editor of a comprehensive manual on artlaw (Belgian market) and is co-editor of a book on legal aspects of leasing. He is affiliated with the Jan Ronse Institute of financial and corporate law of the University of Leuven and is artlaw expert at the Court of Arbitration of Art in The Hague.
Alessandra Saviotti
Her focus is on socially engaged art, collaborative practices and Arte Útil. She is currently busy researching how alternative education models framed as Arte Útil could be successfully implemented within the institution of education fostering sustainability, hacking the institution itself. She is currently the Toolkits Editor for 'Decentralising Political Economies' an online platform realised in collaboration with The Whitworth (Manchester), LJMU's The City Lab and the Asociation of Arte Útil: https://dpe.tools/
She led online and offline seminars at the San Francisco Art Institute (2017), California College of the Arts (2017), SALT Istanbul (2018), The Whitworth (2019), Chicago Architecture Biennial (2019), Accademia di Brera, Milan (2020), and she was the coordinator of the Escuela de Arte Útil at Yerba Buena Center for the Arts, San Francisco (US). She currently teaches at ArtEZ - International Master Artist Educator, Arnhem (NL) and is a tutor at Accademia Unidee, Biella (IT). Since 2007 has been working in collaboration with several institutions such as Van Abbemusuem (NL), SFMOMA (US), MAXXI, Rome (IT), Delfina Foundation, London (UK), Middlesbrough Institute of Modern Art (UK), Visible Project (IT), Manifesta 7 (IT), Estudio Bruguera (USA) e Studio Grilli (BE). She is a 2013-14 van Eyck Akademie fellow, a 2015 Mondriaan Foundation grantee and a 2014 Demo Movin'Up grantee and she has been awarded an international mobility grant from i-Portunus – Creative Europe in 2019. www.alessandrasaviotti.com
Jesse van Winden
Jesse van Winden works as the coordinator of Jubilee, a Brussels-based artist-run platform for artistic research and production, and of Caveat, Jubilee's collective research project about more sustainable and balanced ways of working in the art world.
Gertjan Verachtert
Gertjan Verachtert is a partner at Sansen International Tax Lawyers. He focuses on international taxation, estate planning and procedure. Over the years, he has built up unique experience in advising on asset structures (caiman tax, data exchange), migration and emigration of taxpayers, cross-border investments and assistance to artists and athletes.