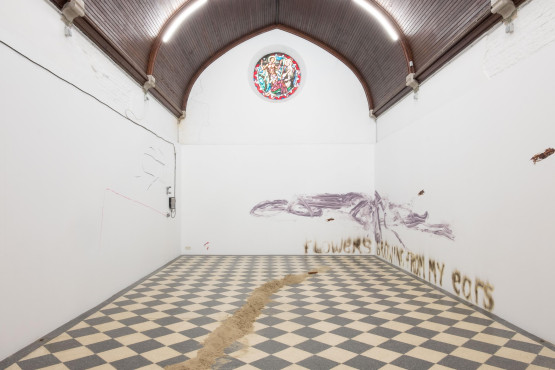 Bodies of Work: Entrance
Kristina Sedlerova Villanen
26.05–12.06.2022
Extra City Kunsthal
Bodies of Work
The temporary organisation Bodies of Work is coming to life in Kunsthal Extra City's chapel. During the summer of 2022, it will fill the space with six different exhibitions and events co-curated by the participants of the 2021-22 class of the Curatorial Studies postgraduate programme at KASK & Conservatorium/ School of Arts.
Participating artists Kristina Sedlerova Villanen, Franciska Khamis Giacoman, Yuri Leiderman, Hamed Dehqan, Eva Giolo, Eva L'Hoest, Mélanie Peduzzi, Alise Anna Dzirniece & Jānis Dzirnieks (in order of appearance).
Curated by Josue Aliendre Carvani, Natalia Barczyńska, Valentina Bianchi, Myrna D'Ambrosio, Minne De Meyer Engelbeen, Amanda Hakoköngäs, Arno Huygens, Anna Laganovska, Yasaman Tamizkar, Alexandra Tryanova, Adriënne van der Werf, Bas Verwaetermeulen.
Bodies of Work is a collaboration between Curatorial Studies at KASK & Conservatorium in Ghent and Kunsthal Extra City.
The artist Kristina Sedlerova Villanen refers to the architectural heritage of Kunsthal Extra City's chapel by creating a site-specific installation. The neo-archeological grounds will be infused with remnants of earthly materials, leftovers, and traces of human consumption. Sedlerova Villanen's bodily impulsive gestures become incorporated in the space, where loops of time make the past overlap with the future. The artist questions the position of humans in situations of suspension by intuitive means and searches for a common language of communication.
Biography
Kristina Sedlerova Villanen (1987) works with geological sediments, human made degradable physical matter, immaterial sources and language deposits. She is interested in the inconsistency of human nature, it's attraction towards building unequal systems and the need to believe in those. Her previous works can be described as emotionally loaded transitions in perishable matter.
Curated by
Natalia Barczyńska, Amanda Hakoköngäs
Graphic Design
Bodies of Work
The exhibition is supported by Frame Contemporary Art Finland and Sale di Sicilia.