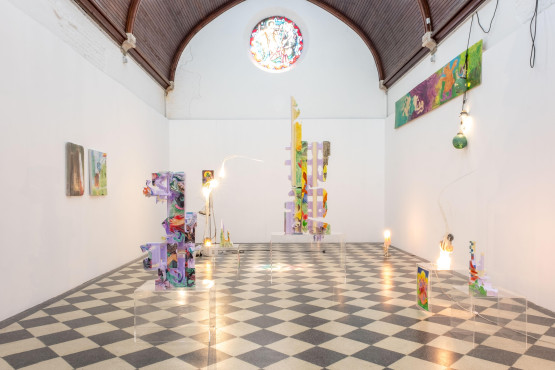 Bodies of Work: Snowflake Blockbuster
Alise Anna Dzirniece, Jānis Dzirnieks
05–28.08.2022
Extra City Kunsthal
Bodies of Work
The temporary organisation Bodies of Work is coming to life in Kunsthal Extra City's chapel. During the summer of 2022, it will fill the space with six different exhibitions and events co-curated by the students of the Curatorial Studies class of 2022 at KASK & Conservatorium/ School of Arts.
Participating artists Kristina Sedlerova Villanen, Franciska Khamis Giacoman, Yuri Leiderman, Hamed Dehqan, Eva Giolo, Eva L'Hoest, Mélanie Peduzzi, Alise Anna Dzirniece & Jānis Dzirnieks (in order of appearance).
Curated by Josue Aliendre Carvani, Natalia Barczyńska, Valentina Bianchi, Myrna D'Ambrosio, Minne De Meyer Engelbeen, Amanda Hakoköngäs, Arno Huygens, Anna Laganovska, Yasaman Tamizkar, Alexandra Tryanova, Adriënne van der Werf, Bas Verwaetermeulen, 2021-22 class of the Curatorial Studies postgraduate programme at KASK & Conservatorium in Ghent.
Bodies of Work is a collaboration between Curatorial Studies at KASK & Conservatorium in Ghent and Kunsthal Extra City.
Snowflake Blockbuster presents the work of Alise Anna Dzirniece and Jānis Dzirnieks. While this brother-and-sister duo has worked on various projects before, the upcoming show in Extra City will be their first collaboration in the form of an exhibition.
Biographies
Alise Anna Dzirniece (1996), a Latvian fashion designer and artist based in Antwerp, is a recent master's graduate of the Antwerp Fashion Academy.
In her work, Dzirniece enters the realms of fantasy, surrealism and childhood memories, playfully placing her fashion collections within the worlds fueled with imagination and daydreams. Her working process is mirrored in her painting practice, in which she creates dynamic characters and stories through brightly coloured illustrations.
Jānis Dzirnieks (1992°) lives and works between Rotterdam and Riga. He has studied visual communication at the Art Academy of Latvia and received a master's in fine arts at Piet Zwart Institute. Dzirnieks's art practice focuses on material and processual research. He works with pre-existing algorithms and post-industrial devices to create dynamic installations and wall pieces. Dzirnieks uses algorithms to distort images, turning them into digital drips, glitches, abstract shapes, or colour fields, among which some figurative elements stay grotesquely recognizable. Dzirnieks' visually deformed images and metaphors reflect the immersion between synthetic and organic environments, heavily technologized processes, planned obsolescence and exploitation of vulnerabilities of the human psyche. The work of Jānis Dzirnieks has been presented in solo and group exhibitions internationally at Kai Art Center, Tallinn (EE), MABOCA festival, Madona (LV), Robert Fruinstraat 56, Rotterdam (NL), 427, Riga (LV), Vitrine, The Hague (NL), Het Nieuwe Instituut, Rotterdam (NL) and Kim? Contemporary Art Center, Riga (LV).
Curated by
Anna Laganovska, Bas Verwaetermeulen