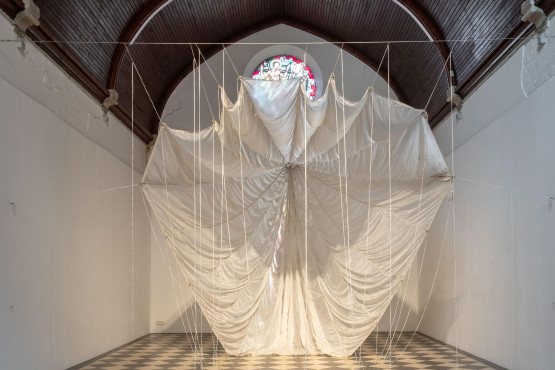 Bodies of Work: Caer Ascendiendo
Francisca Khamis Giacoman
17–19.06.2022
Extra City Kunsthal
Bodies of Work
The temporary organisation Bodies of Work is coming to life in Kunsthal Extra City's chapel. During the summer of 2022, it will fill the space with six different exhibitions and events co-curated by the participants of the 2021-22 class of the Curatorial Studies postgraduate programme at KASK & Conservatorium/ School of Arts.
Participating artists Kristina Sedlerova Villanen, Franciska Khamis Giacoman, Yuri Leiderman, Hamed Dehqan, Eva Giolo, Eva L'Hoest, Mélanie Peduzzi, Alise Anna Dzirniece & Jānis Dzirnieks (in order of appearance).
Curated by Josue Aliendre Carvani, Natalia Barczyńska, Valentina Bianchi, Myrna D'Ambrosio, Minne De Meyer Engelbeen, Amanda Hakoköngäs, Arno Huygens, Anna Laganovska, Yasaman Tamizkar, Alexandra Tryanova, Adriënne van der Werf, Bas Verwaetermeulen.
Bodies of Work is a collaboration between Curatorial Studies at KASK & Conservatorium in Ghent and Kunsthal Extra City.
Francisca Khamis Giacoman relates the fragmentation of diasporic memories into performances and audio-visual installations. She ties together material family archives and collective memories into different solidifications of in-between states of being. Stories of migration unfold at the boundaries of fiction and materiality. After receiving a package from her family in Chile, she uses the same gesture, and brings forth a new object to the chapel at Kunsthal Extra City. This object folds the fabric of her research together with memories of her family's business manifesting the multitude of states of in-between-ness that permeate her life.
Biography
Francisca Khamis Giacoman's recent works deal with fragmented diasporic memories. In performances and installations, she recollects stories of migration and unfolds them at the boundaries of fiction and materiality. Her video and sound works use family archives to focus on the solidification of in-between identities.
She has exhibited works at Rozenstraat, Amsterdam; Hotel Maria Kapel, Hoorn; Het Nieuwe Instituut, Rotterdam; Kunstverein, Amsterdam; PuntWG, Amsterdam; Stroom, Den Haag; Stadium, Berlin. She has published her work in Zelda Magazine, Finland; and was artist in residence in Umeå, Sweden. Francisca Khamis Giacoman recently co-founded Espacio Estamos Bien, an art cooperative based in Amsterdam, that organises gatherings, publications and exhibitions.
Curated by
Adriënne van der Werf, Josue Aliendre Carvani
Dramaturgy in collaboration with
Andoni Zamora Chacartegui
Performers
Francisca Khamis Giacoman, Anabel Pérez Lubián
Music
Antonio Duarte
Sound piece
Arif Kornweitz
Graphic Design
Oriol Cabarrocas
Outfit
Avoidstreet