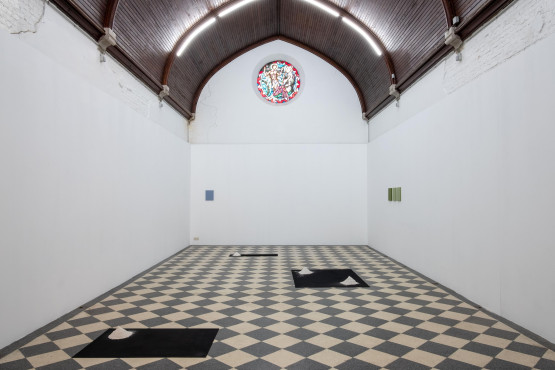 Bodies of Work: built in the midst
Hamed Dehqan
14–24.07.2022
Extra City Kunsthal
Bodies of Work
The temporary organisation Bodies of Work is coming to life in Kunsthal Extra City's chapel. During the summer of 2022, it will fill the space with six different exhibitions and events co-curated by the students of the Curatorial Studies class of 2022 at KASK & Conservatorium/ School of Arts.
Participating artists Kristina Sedlerova Villanen, Franciska Khamis Giacoman, Yuri Leiderman, Hamed Dehqan, Eva Giolo, Eva L'Hoest, Mélanie Peduzzi, Alise Anna Dzirniece & Jānis Dzirnieks (in order of appearance).
Curated by Josue Aliendre Carvani, Natalia Barczyńska, Valentina Bianchi, Myrna D'Ambrosio, Minne De Meyer Engelbeen, Amanda Hakoköngäs, Arno Huygens, Anna Laganovska, Yasaman Tamizkar, Alexandra Tryanova, Adriënne van der Werf, Bas Verwaetermeulen, 2021-22 class of the Curatorial Studies postgraduate programme at KASK & Conservatorium in Ghent.
Bodies of Work is a collaboration between Curatorial Studies at KASK & Conservatorium in Ghent and Kunsthal Extra City.
built in the midst explores similarities, repetition, and differences in a magical constellation of references. The elements of the installation function as sculptures, feelings, or contexts, according to the physical position of the observer. The visitor is guided into the chapel in a constantly renovated discovery of various levels of visibility, seeing distinct compositions in relation to where they are standing.
This exhibition presents the transition from Hamed Dehqan's former practice in Iran to developing his projects as an artist in residence at HISK. His previous site-specific installations took shape within these spaces with found objects that unfolded the collective life experience among plants and their behaviour as a form of (comparative study in) discovering the social human life. Plants and objects in those installations were used figuratively and were the main subject of his study. For this project, he keeps exploring relative materials, colours, textures and shapes through objects in his installations. In his previous works, he was an observer of his surroundings with a contemporary language defying to accept the classical form of painting and sculpture.
"If moving forward meant creating a bigger scale installation, I take a step back to transform a three-dimensional image into two-dimensional colour, form, and texture."
The artist's practice is based on personal studies and research around phenomena of language and perception, engaging in a studio-based practice that creates a unique formal language through sculptural installations, multi-dimensional spatial drawings, and paintings. Dehqan is an artist in residence at HISK Academy in Ghent (2022-2023) doing practice-based research in visual arts. His work has been shown at 3-Platform, Tehran, Iran, CalArts Expo, California, USA, and Lona Galeria, São Paulo, Brazil. In 2016, he started the Pansion Project, an art project space. He has also worked as a writer with art magazines in Iran.
The exhibition was supported by an artist talk which took place on Saturday 23.07 in the garden of Extra City Kunsthal.
Curated by
Yasaman Tamizkar, Valentina Bianchi
Graphic Design
Bodies of Work
Exhibition supported by HISK Advanced Studies and Practice-based Research in Visual Arts