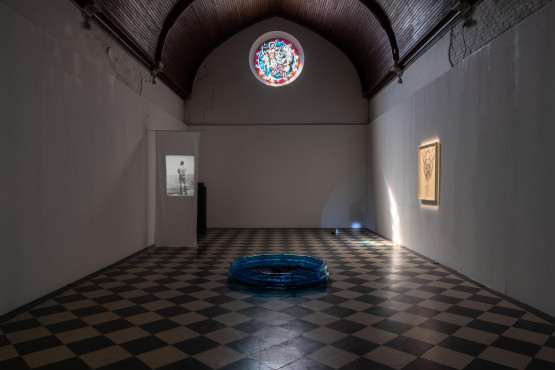 Bodies of Work: Just Like Arcadia
Simon Fujiwara, Anna Jermolaeva, Nikolay Karabinovych, Yuri Leiderman, Voin de Voin & Hanayo
24.06–10.07.2022
Extra City Kunsthal
Bodies of Work
The temporary organisation Bodies of Work is coming to life in Kunsthal Extra City's chapel. During the summer of 2022, it will fill the space with six different exhibitions and events co-curated by the students of the Curatorial Studies class of 2022 at KASK & Conservatorium/ School of Arts.
Participating artists Kristina Sedlerova Villanen, Franciska Khamis Giacoman, Yuri Leiderman, Hamed Dehqan, Eva Giolo, Eva L'Hoest, Mélanie Peduzzi, Alise Anna Dzirniece & Jānis Dzirnieks (in order of appearance).
Curated by Josue Aliendre Carvani, Natalia Barczyńska, Valentina Bianchi, Myrna D'Ambrosio, Minne De Meyer Engelbeen, Amanda Hakoköngäs, Arno Huygens, Anna Laganovska, Yasaman Tamizkar, Alexandra Tryanova, Adriënne van der Werf, Bas Verwaetermeulen, 2021-22 class of the Curatorial Studies postgraduate programme at KASK & Conservatorium in Ghent.
Bodies of Work is a collaboration between Curatorial Studies at KASK & Conservatorium in Ghent and Kunsthal Extra City.
The exhibition Just like Arcadia. If you face the South, Moscow will be far behind proposes a reflection on identity construction and place apperception phenomenons. Departing from a notion of imaginary idyllic Arcadia, the exhibition invites into a psycho-emotional knowledge sharing on the experience of being in between different cultures and hierarchies in the Ukrainian south. The exhibition stands on subjective sensibilities towards the place and defends a definition of the place not only as a physical site but also as an imaginary form or a cultural phenomenon. Here the nostalgic experience of the place fuels identity transformation in grappling with the contradictions of inherited or imposed values.
The exhibition opens with the ritualistic performance by Voin de Voin & Hanayo, drawing attention to the current ecological emergency at The Black sea. There, dolphins are massively dying because of the war actions and sonars, and their bodies are found on the coastline across Ukraine, Romania, Bulgaria, and Turkey. Focusing on vibrations and sound frequency, performers explore the sound terror, how sound is exercised to control larger groups, and how it influences non-humans.
Curated by
Alexandra Tryanova